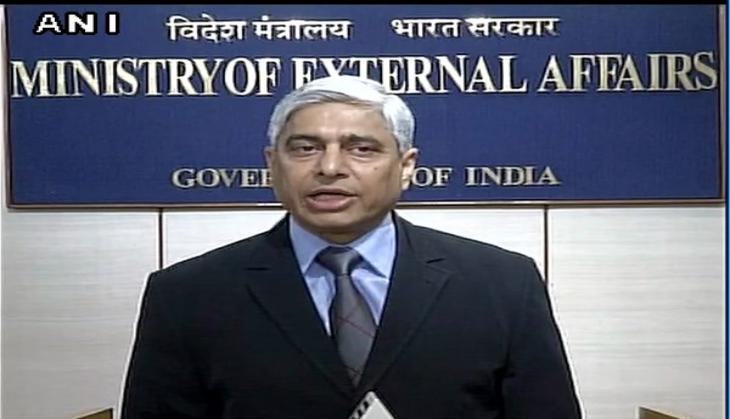 Commenting on the recent letter written by Pakistan Prime Minister Nawaz Sharif to the United Nations regarding the Kashmir issue, the Ministry of External Affairs (MEA) today said these letters won't change the reality that Jammu and Kashmir is an integral part of India.
"Pakistan can write as many letters as they want, to the UN. It won't change the ground situation that Jammu and Kashmir is an integral part of India. Also the ground reality is that part of Jammu and Kashmir is under illegal occupation of Pakistan," MEA official spokesperson Vikas Swarup said.
Reiterating India's stand on Pakistan's involvement in the internal situation in the Valley, Swarup said Islamabad has no locus standi in commenting on that.
"We are very perfectly capable of dealing with that," he added. Talking about the China-Pakistan Economic Corridor (CPEC), Swarup said it passes through the Indian territory under illegal occupation of Pakistan, so naturally New Delhi would be concerned.
Speaking on human rights violations while indicating Balochistan, Swarup said India would always express its concern.
"What is blatant is cross border terrorism. The capture of terrorist Bahadur Ali is a live example of interference of the country's internal affairs. That is what the real interference is and this is what Pakistan needs to stop," he added.
In yet another attempt to internationalise the Kashmir issue, Sharif has written to Ban-ki-Moon for the second time in a month to intervene by sending a fact-finding team to probe the alleged human rights violations in the Valley.
Foreign Office spokesperson Nafees Zakariya said that Sharif sent the letter to Ban Ki-Moon apprising him of the deteriorating situation in Kashmir.
He said Sharif sent the letter in response to UN Secretary General's call for making efforts to avoid further violence in Kashmir.
The letter called Prime Minister Narendra Modi's remarks on Balochistan and PoK as unwarranted and in complete contravention of the UN charter.
It said the remarks were aimed at diverting the world attention from the ongoing atrocities in the Kashmir Valley.
-ANI