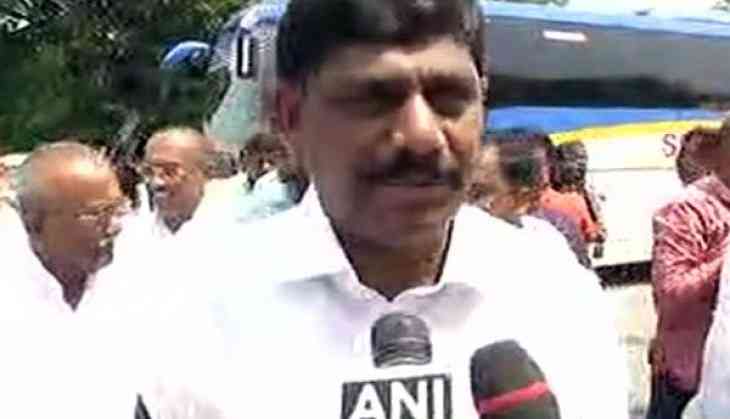 Amid the ongoing protest against the swearing-in of B.S. Yeddyurappa as the chief minister of Karnataka, Congress Party MP D.K. Suresh alleged that his fellow Congressman, Anand Singh, was in the "clutches" of Prime Minister Narendra Modi.
"All MLAs are here except Anand Singh. He is in the clutches of (Prime Minister) Narendra Modi," Suresh told ANI.

For those unversed, results of the Karnataka Assembly polls announced on Tuesday evening showed that the Bharatiya Janata Party (BJP) won 104 seats, emerging as the single largest party, while the Congress and Janata Dal (Secular) bagged 78 and 37 seats, respectively.

A number of Congress and JD (S) leaders, including former chief minister Siddaramaiah and JD(S) leader H.D. Kumaraswamy, had accused Prime Minister Modi and the BJP of encouraging horse-trading to bring the BJP to power in the state.

However, BJP Karnataka in-charge Prakash Javadekar said the horse-trading allegations were "baseless" and retaliated saying the Congress was famous for the same.
"They (Congress and JDS) are levelling baseless charges against BJP. Poaching and horse trading is not done by BJP, Congress is famous for it. Their own MLAs are not happy with their alliance," he told reporters on Wednesday.

Meanwhile, Union Minister Ravi Shankar Prasad also echoed a similar stance saying the allegations against Prime Minister Modi were "condemnable, false, irresponsible and baseless."

While Karnataka Governor Vajubhai R. Vala invited the BJP to form the government in the state, the Congress filed a petition before the Supreme Court to postpone the swearing-in ceremony of Yeddyurappa. However, the top court sealed the deal in favour of the BJP, following which Yeddyurappa was sworn in as the 23rd chief minister of Karnataka.
(ANI)