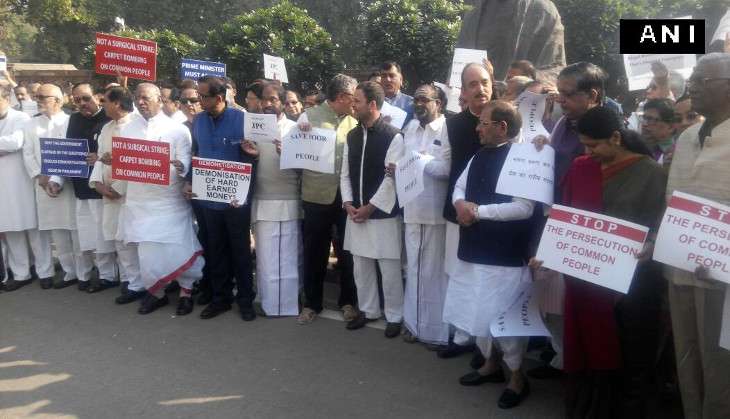 Opposition leaders protest against demonetisation outside Parliament (Photo: ANI)
Leaders of Opposition parties staged a protest against the government's decision to demonetise Rs 500 and Rs 1000 notes on 23 November by forming a human chain, chanting slogans and holding placards. Congress Vice President Rahul Gandhi, TMC leader Derek O'Brien joined the leaders to protest near the Gandhi statue in the Parliament premises.
"What Prime Minister has done is biggest impromptu financial experiment,he didn't discuss this with anyone;this isn't Finance Minister's decision but the PM's. Opposition parties is only demanding that PM should come and address the Parliament, why isn't he coming?" Rahul Gandhi told the media.
The decision to hold the protest was taken on 21 November, when Opposition leaders met to discuss a fresh strategy to counter the Center's move to demonetise high value currency notes.
Both Houses of Parliament witnessed a stormy debate over demonetisation during the first five days of the Winter Session.
In the Lok Sabha, the Congress and other Opposition parties insisted on a discussion on demonetisation under Rule 56, which entails voting and through an adjournment motion that implies suspension of all other business.
In both Houses, the Opposition parties insisted on Prime Minister Narendra Modi's presence while opposing demonetisation.