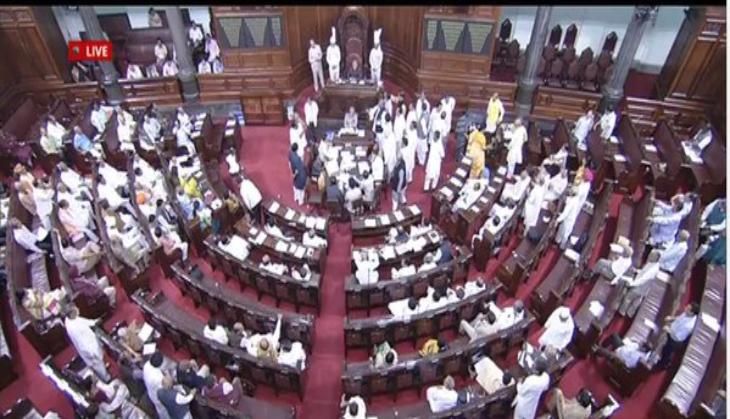 Opposition today hit out at the BJP-led Central government over an attack on two Muslim women in Madhya Pradesh who were beaten up by a mob over rumours of beef consumption. The Opposition alleged that Dalits and Muslims were being increasingly targeted, prompting Home Minister Rajnath Singh to assert that justice will be delivered in the case.
Raising the matter during Zero Hour, Congress leader Mallikarjun Kharge reeled out statistics to highlight attacks on Dalits and cited the incident in Mandsaur (MP), besides the one in Gujarat and the killing of two Dalits in UP to buttress his point.
Demanding a ban on cow vigilante groups like 'Gau Rakshak Sangh', he alleged that they have become a law unto themselves and were being encouraged by BJP governments in states.
Kharge also attacked the Sangh Parivar alleging that their members and those of the BJP are also involved in such incidents.
"Such incidents can happen only when they have government's support," he said while referring to today's reports that a Dalit couple was hacked to death in UP.
Amid cries of 'shame, shame' from opposition benches, the Congress leader said the two women in MP pleaded with the attackers that they were carrying buffalo meat and not cow meat and had produced a receipt to prove their point.
"They were still thrashed in front of the police. They were told that if they were men, they would have been killed," he alleged.
The forensic report, Kharge pointed out, also said it was buffalo meat.
He cited national crime data to take on the government, saying every 80 minutes, one crime against Dalits was taking place; three Dalits are raped and two murdered every day.
"You (government) will say that it has been happening earlier too, but it has risen after you came to power. It has your support," he said, drawing support from Trinamool Congress.
In his brief reply over the incident in Madhya Pradesh, the Home Minister "this is a law and order issue. We all know it is a state matter. The Madhya Pradesh government has acted swiftly and effectively. Investigation is being done. I assure the House that justice will be done and the guilty not spared."
Unhappy over his response, opposition members, including those of the Congress, TMC, and the Left, walked out.
-PTI