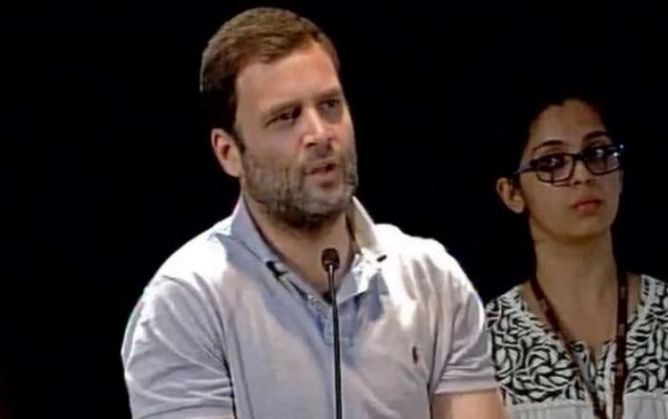 In an age of orchestrated news conferences and planned town hall interactions, Congress vice-president Rahul Gandhi did the unthinkable - he had a free-wielding question-answer session with the students of Mount Carmel College in Bengaluru.
And things didn't go the way they would have at a planned political gathering. Sample this:
Gandhi: Do you see Swachch Bharat working?
Students: Yes
Gandhi (visibly embarrassed): Let me ask you another question
Gandhi: Do you think Make in India is working?
Students: Yes
Gandhi (again embarrassed): You think so?
***
Here are some of the highlights of his speech:
1) I've come to the conclusion that if you want to achieve anything in life, you have to listen, work with, and appreciate people around you. Who is the one person to come and say "Listen, I have a vision for you"? My vision for India is what the people of India want, and to discuss with people what they want.
2) Carrying out physical violence on a woman because you don't appreciate what she does, is not acceptable in this country. To me this country's biggest strength is what Digvijaya Singh said to me in the car today, "Live and Let Live".
3) When I first came into politics, I was convinced that the solution to India's problems were simple. The only thing that had to be done was to implement them.
4) In the central government there is only one man who makes every single decision. It can't be that he has all the answers to the problems of our country.
5) They (the central government) is slashing education and health care expenditure.
6) The central idea of the prime minister which I contest is that he believes that the country can be run through the PMO.
7) I have seen India for too long to believe that one person can change the lives of 1.3 billion people.