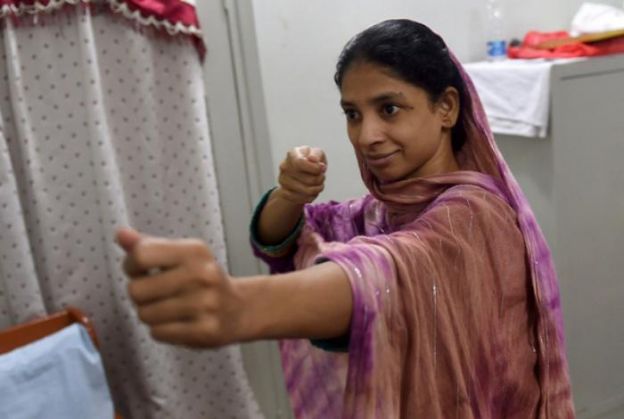 Geeta, a deaf and mute Indian woman who crossed over to Pakistan accidentally 15 years back, would be handed over to her family only if their DNA test matched, the Indian High Commission in Pakistan said on Sunday, 24 October. She is set to arrive in New Delhi on Monday, 25 October.
"If the DNA test of the family (who claims to be Geeta's family) matches with Geeta's DNA, she will be handed over to them. If the DNA test does not match then, Geeta will be taken care by a good organisation till she meets her family," the second secretary of the Indian High Commission in Pakistan, PK Jain told the media.
"Geeta will be leaving for New Delhi from Karachi along with members of the Edhi family at 8 a.m on Monday," Jain added.
Geeta will be arriving from Karachi by Pakistan International Airlines Flight 272 on Monday at Indira Gandhi International Airport, New Delhi at around 10:20 a.m.
Senior Diplomats of Pakistan High Commission would receive Geeta on arrival at Indira Gandhi International airport. Pakistan High Commissioner Abdul Basit would host her and members of the Edhi family on Monday evening.
Meanwhile, Janardhan Mahato, who has been identified by Geeta as her father, expressed confidence that he will pass the DNA test for sure.
"They can take a DNA test or whatever they want. I am not running anywhere. I will pass the DNA test," Mahato said.
He added that he was extremely happy now that Geeta would be returning soon.
On Friday, the Ministry of External Affairs (MEA) said that Geeta would be handed over to the true family in India only after the DNA tests.
"On October 26, we will be bringing Geeta back to India. Together with Geeta, we have invited five official family members of Edhi foundation. They will be treated as state guest during their stay in India," MEA official spokesperson Vikas Swarup had said.
The Pakistani security forces had found Geeta near the eastern border with India in 2001. Since then, she has been in the care of the Edhi Foundation.
-ANI