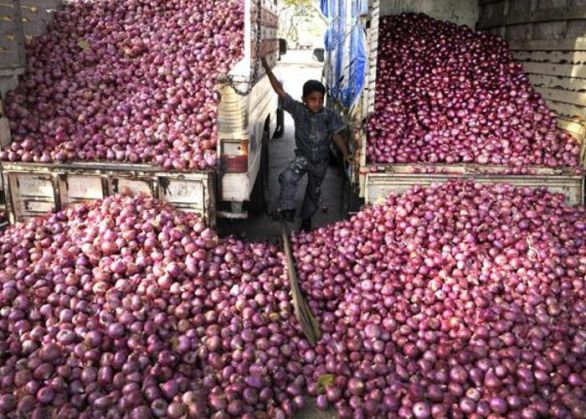 Wholesale onion prices on 20 August, hit two year high of Rs 4,900 per quintal. It has shot up by Rs 400 at the country's largest bulb wholesale market in Lasalgaon, Nashik.
As per National Horticultural Research and Development Foundation (NHRDF data), onions which were selling at a wholesale price of Rs 4,500 per quintal at Lasalgaon, today rose to Rs 4,900 per quintal.
Reasons for the hike
According to the NHDRF the prices have today touched two-year high at Lasalgaon mainly due to decline in supplies as harvesting of onion has been delayed and now it seems that there will also be fall in production of kharif onion.
And it might get worse
Reportedly there are chances of substantial decline in kharif onion production from Maharashtra, Karnataka and Andhra Pradesh due to deficient rainfall, while there is also a threat of drought in these states.
Besides, the harvesting of onion has got delayed in Gujarat, Rajasthan and Madhya Pradesh. Further, the stored rabi onion in the country has halved to 14 lakh tonnes from 28 lakh tonnes in July.
Total onion production is estimated to be at 189 lakh tonnes in 2014-15 crop year (July-June), slightly lower than 194 lakh tonnes, a year ago.
In order to keep prices of onions in check and ensure smooth supplies, the centre has already asked state-owned MMTC to float a global tender for import of 10,000 tonnes of onions.
Meanwhile, Punjab traders have also started importing onions in small quantities from Afghanistan through the Attari-Wagah land route.
Retail prices of onion have already touched Rs 80 per kg in the national capital. In its bid to offer relief to consumers from high prices, the Delhi government has facilitated sale of onions at a subsidised rate of Rs 30 per kg.