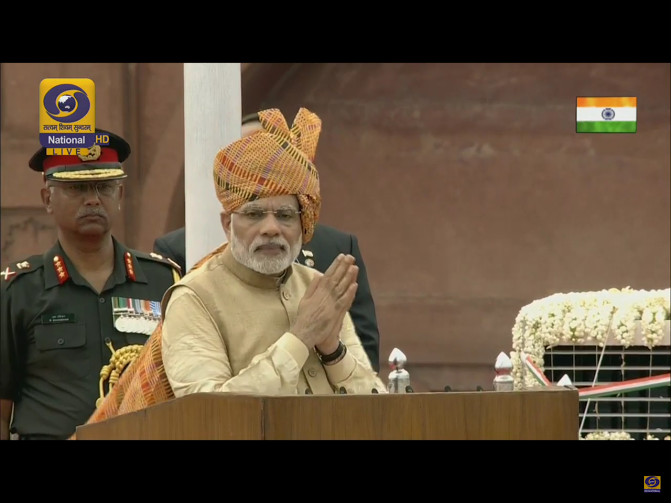 A day after police cracked down on the protests by ex-servicemen at Jantar Mantar demanding the implementation of One Rank One Pension, it was expected that Prime Minister Narendra Modi will make an announcement today.
However, he limited himself to giving assurance that talks are going on and the issue would be addressed by NDA government soon. During his speech at the Red Fort he said: "We are committed to implementing OROP, an issue that has been lingering on for 25 years. Talks are going and I assure you there will be good news soon."
He said that the issue has reached the last stages and the aim is complete development of country and justice to all.
"A solution has to be found for an issue which has been lingering for 20-25 years. I expect good news seeing the way the talks are going on. And that is why I again promise that in-principle, this government has accepted OROP," he said.
The Prime Minister said that talks are being held with the stakeholders to work out the nitty-gritty and modalities.
"We have to move forward by talking," he said.
However, the protesting ex-servicemen reacted sharply. "I am sorry, principle was accepted 17 months ago and he has also accepted it. I want to ask the Prime Minister, what is holding the implementation of OROP," questioned Maj Gen Satbir Singh (Retd), Chairman of Indian Ex-Servicemen movement. .
On 14 August, the demand for the OROP policy took a political turn. About 200 officers of the Delhi Police tried to evict former servicemen protesting at Jantar Mantar, citing security protocol ahead of Independence Day. However, the protesting veterans claimed that they were manhandled by the Police.
Terming the police action as "barbaric" and "undemocratic", the ex-servicemen questioned how could they be security threat for the country when they spent their entire life protecting the country. Ex-servicemen have been protesting for nearly two-months demanding the implementation of the OROP policy.