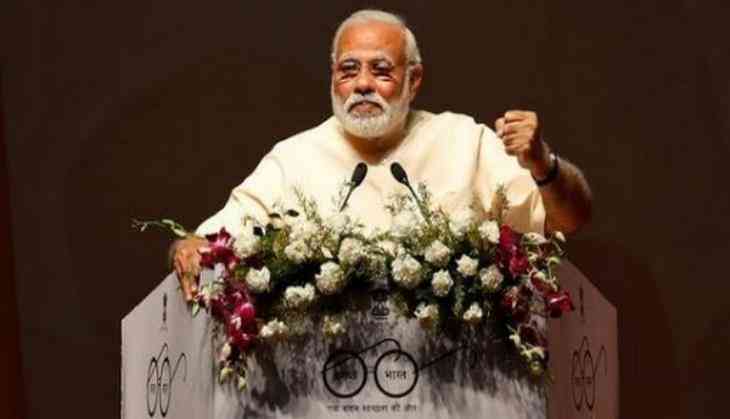 Odisha: PM Modi to meet Paika Rebellion freedom fighters' kin (ANI)
Prime Minister Narendra Modi today will be meeting the family members of the freedom fighters, who undertook an armed rebellion against the British rulers in the state in 1817.
He will be felicitating the families of freedom fighters who sacrificed their lives during the freedom struggle termed as Paika Rebellion. After meeting freedom fighters, Prime Minister Modi will visit the famous Lingaraj Temple here.
The Prime Minister arrived here yesterday amid massive fanfare for the Bharatiya Janata Party's (BJP) two-day national executive meeting.
Senior party leader M.M. Joshi, Home Minister Rajnath Singh, Union Finance Minister Arun Jaitley, External Affairs Minister Sushma Swaraj, Union Minister Venkaiah Naidu and other party leaders are also expected to be present at the meeting.
Prime Minister Modi landed at Biju Patnaik International Airport around 3:30 PM and was given a grand welcome by ministers.
Supporters thronged the streets as Prime Minister Modi made his way to the venue of the party meet from the airport. He leaned out of his vehicle many times to wave and greet the party workers and admirers who were trying their best to get a glimpse of him.
After reaching the venue, Prime Minister Modi got down at the entrance of the Raj Bhawan to greet onlookers and a few women leaders of the BJP. He also shook hands with many of them before getting into the car again to drive to the Odisha Governor's residence.
On arriving at the venue, Prime Minister Modi lit the lamp while Vande Mataram was played to mark the start of the national executive meet.
All 13 BJP Chief Ministers, including Uttar Pradesh's Yogi Adityanath, their deputies, and 45 Union ministers are also attending the meet to prepare a roadmap for the Assembly and Lok Sabha elections in 2019.
The leaders will discuss the BJP's strategy to increase the party's political footprint ahead of the 2019 general elections while eyeing the 2019 Odisha state elections.
-ANI