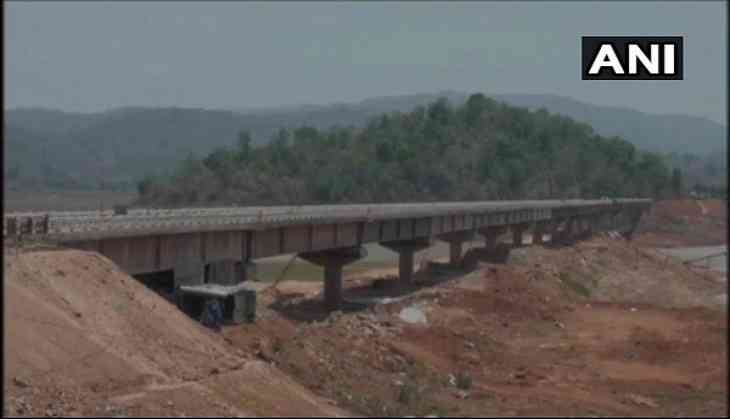 The under-construction Gurupriya Bridge in Odisha's naxal-affected Malkangiri will be under close supervision of the district administration, which is installing CCTV cameras at different locations near the bridge to keep it secure from the naxals.
Despite the naxals' efforts to stall the construction of the 910-metre long bridge that will connect the cut-off area to the mainland, it is on its way to near completion, i.e., by May.
The construction of the bridge started in 2015 at a cost of Rs 172.58 crore.
To ensure the naxals do not disturb the bridge work, at least five BSF camps have also been set up between Chitrakonda and Janbai.
The bridge connects Janbai North to Janbai South, which otherwise took seven to eight hours to reach through the waterways from the Balimela ferry point.
Sources said construction of the bridge assumes significance, as it is the only means to connect 151 villages of eight Panchayats in the cut-off area which is now surrounded by water from three sides.
This land is so remote that it is even officially called the Cut-Off Area. The remoteness of these villages can be traced back to the early 60s, when vast tracts of forest land and villages were submerged and remained cut-off from the mainland to make way for the Balimela reservoir of the Balimela Hydro Project.
With the successful completion of the project, the government schemes and benefits will be able to reach these areas on the one hand, while on the other, it will obstruct the revolution of the naxals.
"The bridge would provide all-weather road communication to the area and government programmes can easily reach the doorsteps of cut-off villagers," said Niraj Kumar, project engineer of Royal Infra Company, Malkangiri.
On June 29, 2008, in an ambush laid by the naxals, at least 38 Grey Hound personnel were killed in the cut-off area and former Malkangiri collector R Vineel Krishna was abducted by the Maoists from this region in 2011.
(ANI)