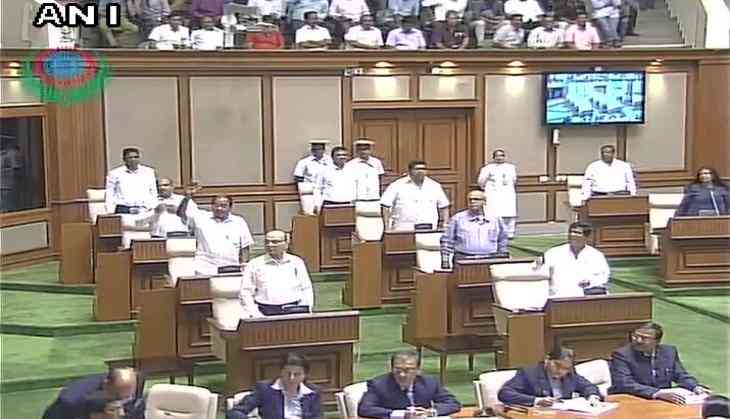 The Odisha Assembly was on 31 March, 2017 adjourned thrice back to back amidst ruckus by opposition demanding a probe by crime branch and a statement from Chief Minister Naveen Patnaik on the alleged gangrape of a tribal girl in Ganjam district.
The issue was raised during Zero Hour by the Leader of Opposition Narasingha Mishra (Congress), who demanded a crime branch inquiry and a statement from the Chief Minister.
Mishra was referring to the alleged gangrape of a minor tribal girl at Ankuli village under Patrapur block of Ganjam district. She was allegedly raped by her five cousins who had political differences with her father.
The Congress leader said that though he had raised the issue earlier during his speech on home demand discussion, the chief minister did not reply.
Mishra said that the girl was raped because her father was working for Congress in the panchayat polls. "She was confined in a room where police personnel allegedly brain washed her," he said.
"This is unfortunate. This is against humanity," the leader of opposition said and urged Speaker Niranjan Pujari to give direction to the chief minister to make a statement in the House.
Mishra also found support from BJP legislature party leader K V Singhdeo, who demanded a statement from Patnaik.
Subsequently, members of both the opposition parties (Congress and BJP) rushed to the well of the House and shouted anti-government slogans.
Unable to continue with the proceedings, Pujari adjourned the House, thrice in a row till 3 pm.
Congress had yesterday demanded resignation of state Women and Child Development Minister Usha Devi in the wake of the incident.
"As women and children are not safe in her own constituency (Chikiti), Usha Devi has no moral right to continue as minister. She should resign immediately," Odisha Pradesh Congress Committee (OPCC) spokesperson Sulochana Das said.
No arrests have been made so far in the case, Chikiti Sub Divisional police officer P Ch Jena said.
The girl on 28 March, 2017 had complained to the SP that she had been kidnapped by five persons on March 9 and raped for 10 days before they left her in the forest.
-PTI