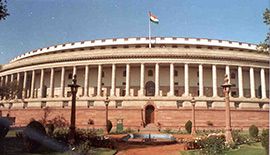 Two student unions will clash on 24 February, the second day after the opening of the Budget session of Parliament, each marching to proclaim its own version of nationalism, reports The Economic Times.
While the Congress-affiliated National Students Union of India (NSUI) had planned its 'Chalo Delhi' march on 23 and 24 February much in advance to seek justice for Dalit scholar Rohith Vemula who had hanged himself after being expelled from Hyderabad University, the RSS student wing Akhil Bharatiya Vidyarthi Parishad (ABVP), decided to march on 24 February only on Wednesday in protest against the 'seditious activities' at JNU.
"Our protest march to Parliament to seek justice for Vemula was planned much in advance," said NSUI president Roji M John. "ABVP is responsible for the death of Vemula and have not sought justice for him. I see their proposed march as a tactic to divert attention from the issue of justice for Vemula."
ABVP joint organising secretary Srinivaj said: "Those who are trying to play Dalit politics in the name of Vemula are acting against Ambedkar's Constitution by lending support to seditious and anti-national activities."