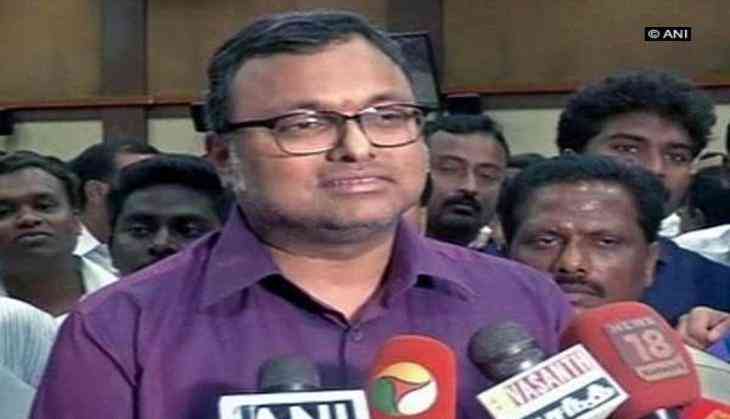 Union Minister P. Chidambaram's son Karti Chidambaram's lawyer on 13 January said nothing was found and nothing was seized from Chidambaram's homes where Enforcement Directorate (ED) conducted raids in Delhi and Chennai in connection with Aircel-Maxis case.
"The ED conducted a raid today. Nothing was found, nothing was seized. The raid concluded at 10.45 a.m," Karti's lawyer Arun Natrajan told media here.
He also said this was not an enquiry but just a raid, and kept emphasising that nothing was found or seized.
"It was a raid conducted under the provisions of Prevention of Money Laundering Act (PMLA)," said Arun Natrajan.
The Enforcement Directorate (ED) conducted a raid at former union minister P. Chidambaram's son Karti Chidambaram's homes in Delhi and Chennai in the alleged INX Media bribery case.
According to sources, the ED officials reached there at 7.30 a.m. There were about five officials at their residence.
In October last year, during investigation ED found that Foreign Investment Promotion Board (FIPB) approval given by P. Chidambaram in Aircel-Maxis case was beyond his mandate.
The law enforcement agency, in its investigation, also found that the amount for FIPB approval was wrongly projected to conceal the facts.
It also found that the company promoted by Karti and P Chidambaram's nephew allegedly received two lakh dollars from Maxis Group in guise of software consultancy.
The Aircel-Maxis deal refers to a series of allegations of kickbacks in the telecom sector, which was part of the wider 2G scam that engulfed the UPA regime.
In 2011, former Aircel head C. Sivasankaran complained to the CBI that he was being forced by then telecom minister Dayanidhi Maran to sell Aircel to the Malaysia-based Maxis Communications group owned by T. Ananda Krishnan.
-ANI