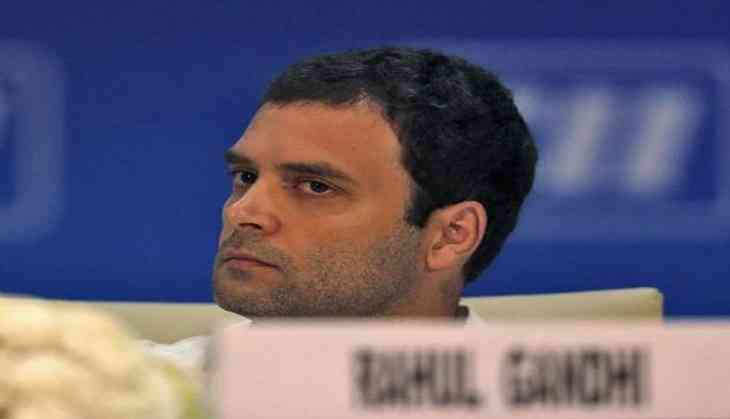 In yet another embarrassment for Congress, party's vice-president Rahul Gandhi has called the prominent leaders of India's freedom struggle as "NRIs" (non-resident Indian) and said the party was born of an "NRI movement".
On which, Rahul was later trolled for his statement by people on micro blogging site Twitter.
Rahul Gandhi on Wednesday called on NRIs to join hands with the grand old party.
While addressing a gathering at Times Square, Gandhi said, "You (NRIs) have tremendous knowledge and understanding so you need to involve. I want to invite you to work with Congress to discuss vision for going forward. We want to take your help."
Asserting that NRIs are "our backbone," the Congress vice president averred, "everywhere you look, there is an Indian working for US and India, building both countries."
He further stated that great leaders like Mahatma Gandhi and Jawaharlal Nehru were all NRIs.
"The original Congress movement was an NRI movement. Mahatma Gandhi was an NRI, Jawaharlal Nehru came back from England. Ambedkar, Azad, Patel these were all NRIs. Every single one of them went to the outside world, saw the outside world, returned back to India and used some of the ideas that they had got and transformed India," adding that father of the White Revolution in India, Verghese Kurien, too was also an NRI.
"Congress Party is 130 years old, but we don't represent an organisation, we represent a philosophy of more than 1000 years old. People view India as a geographical construct, I view India as a set of ideas. We have many religions, languages and everyone are living happily together. The reasons they have been able to do so is due to ideas of the Congress party," he added.
Here is how Twitter slammed Rahul for his statement:
Rahul Gandhi's latest blooper !! 😂😂😂
Mr. Gandhi, you too are an NRI (Not Related to India) 😂😂 pic.twitter.com/8CwI7eOSPi

— Mithun Bhandary (@mith780) September 22, 2017
Rahul Gandhi is also NRI- Non Required Indian

— Vikash (@inept_me) September 21, 2017
In US.. Rahul Gandhi ji says Mahatma Gandhi, Nehru were NRI..
In India.. Congress always tries to prove how Sonia ji is an Indian..

— Paresh Rawal Fan (@Babu_Bhaiyaa) September 22, 2017
Rahul Gandhi is right, every Gandhi every Nehru was and is NRI except Sonia who is not an NRI but a foreign citizen #RahulNRIComment

— Ra_Bies (@Ra_Bies) September 22, 2017
Rahul is also an NRI; Non Reliable Indian. #RahulNRIComment

— Aakash Gauttam (@AakashGauttam) September 22, 2017
Rahul Gandhi is also an NRI — Non Responsible Indian: Dr Sambit Patra, BJP

— Republic Of India (@RepubIicofIndia) September 22, 2017
Hurricane aur Earhquake ke bad Rahul Gandhi ki comedy se US ko rahat mili #RGinUS #RahulGandhi Princeton University

— Swara MissingDandiya (@OverNationalism) September 21, 2017
"I will not employ #RahulGandhi even as a managing clerk in my office"

And he dreams of being the Prime Minister of India someday🤣🤣🤣 pic.twitter.com/1Bfwm87XB3

— Archie (@archu243) September 21, 2017