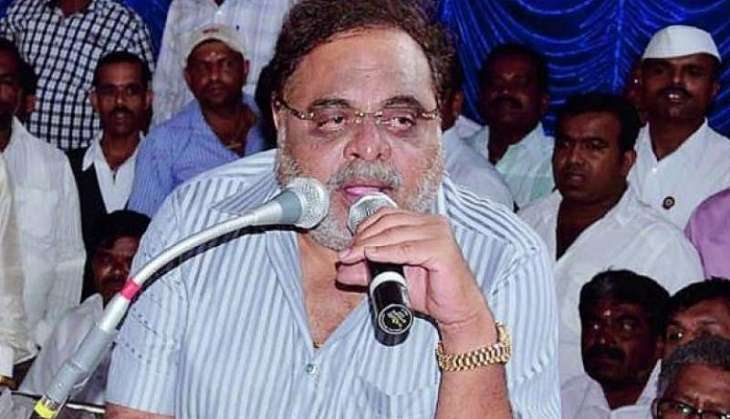 Discontent over the Cabinet reshuffle by Karnataka Chief Minister Siddaramaiah, actor-turned politician MH Ambareesh said on 21 June he was not a 'chappal' (slipper) to be thrown away when not required.
"They want my personal appearance. I will give my personal appearance and give the resignation. I am not anybody's 'chappal' that can be worn and thrown away when you want. I have my own popularity. I am not leaving because of politics. I lead my life because of the people's sweat. I know how to handle this," said Ambareesh.
Ambareesh said Siddaramaiah should have called him and asked him to give a chance to somebody else.
"I am also a three-time MP. I was a central minister and I worked with him for three years. You must call us and say Ambareesh give the chance to somebody else. I would have happily given. I have no interest in power. I am satisfied because I work to my heart," he added.
Holding the Chief Minister responsible for his resignation, Ambareesh expressed confidence that many political parties would now approach him and give him a red carpet welcome.
"Everybody will approach me and give me red carpet welcome. They know if I come I will be a strength," he added.
On 20 June, the Karnataka government removed as many as 14 ministers and inducted 13 others.
The shuffle is being seen as an attempt by the party to hit the refresh button, as the government enters the final lap of its tenure. The Karnataka Assembly elections are due in 2018.
Factors such as caste, age and resource generation were reportedly in play as the Congress chose the new ministers.
The 14, who were removed from the 34-member ministry, cried foul, while those who failed to get a berth threatened to quit as legislators.
Educationist MR Seetharam, a two-term Congress MLA from Bengaluru, now a member of the state legislative council, made his maiden foray as a minister.
Former Congress MLA and Bharatiya Janata Party (BJP) MP Manorama Madhwaraj's son Pramod Madhwaraj, a first-time MLA from Udupi, was among the young faces inducted into the Cabinet in place of veterans from the coastal region like Vinay Kumar Sorakke and Abhaychandra Jain.
Labour Minister PT Parameshwar Naik from the mining district of Bellary recently in the news for his standoff with police officer Anupama Shenoy was removed too.
Shivaraj Tangadagi, who was in charge of minor irrigation and was linked to a number of irregularities in the Koppal region, was dropped.
Primary Education Minister Kimmane Rathnakar, who was under fire after multiple question paper leaks in the course of pre-university exams this year, also lost his berth.
--ANI