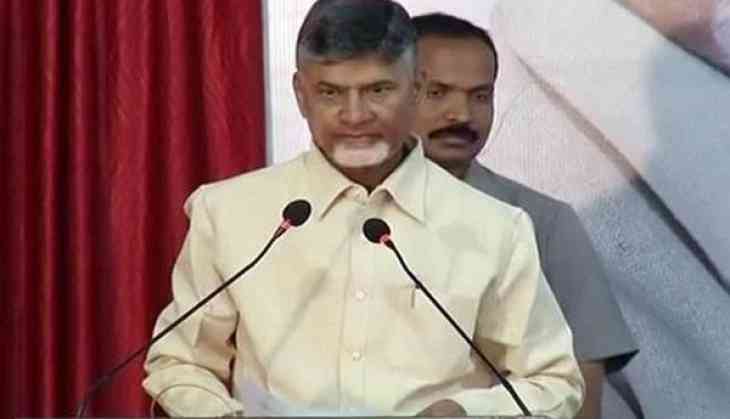 Andhra Pradesh Chief Minister and Telugu Desam Party (TDP) Chief N Chandrababu Naidu on Friday expressed his disappointment after Prime Minister Narendra Modi-led National Democratic Alliance government sailed through the No-Confidence Motion in the Lok Sabha.
Addressing the media here on Friday, Naidu said that the entire Andhra Pradesh has been disappointed with the result.
He said. "Entire Andhra Pradesh waited for justice, only to be disappointed again. They have majority but they breached "neeti". The Prime Minister's speech has caused much pain.
"As part of our continuous fight, we introduced this no-confidence motion. In the last four years, I went to Delhi 29 times. Instead of doing justice to AP, he is resorting political attack on me alleging I took U-turn," Naidu added.
The Andhra Pradesh Chief Minister further claimed that this is the first time that all the parties came together to support a No-Confidence Motion which was moved by a regional party.
"This is first of its find that parties across the country came together to support for discussion on No-Confidence Motion introduced by a regional party," he said.
Naidu claimed that Andhra Pradesh has been denied justice.
He said, "Instead of doing justice to AP, he is resorting political attack on me alleging I took a U-turn. It is sad to see a man of the stature of PM is talking irresponsibly and cheap."
He also said that because TDP does not have the numbers, their demands and needs are not being met.
"The centre is showing negligence because we don't have numbers," Naidu said.
The BJP-led NDA government on Friday defeated the No-Confidence Motion with a comfortable majority of 325 votes in its favour, compared to 126 votes by the Opposition parties out of total 451 Members of Parliament present in Lok Sabha.
The Biju Janata Dal (BJD) members had staged a walk-out while NDA ally Shiv Sena abstained from voting.
The NDA's massive victory came after an 11-hour debate, followed by a 90-minute reply by the Prime Minister, during which he listed out the achievements of his government and underlined the failures of the Congress and its allies during their previous terms.
This was also the first major unity strength of the Opposition parties that are planning to come together for `Grand Alliance` hoping to fight the BJP in the 2019 general elections.
Earlier on July 15, Naidu wrote letters to non-BJP, non-Congress parties' presidents and Parliamentary party leaders seeking support on a No-Confidence Motion against the Centre in the upcoming monsoon session of Parliament over the demand for special category status to Andhra Pradesh.
The TDP had earlier made six-subgroups of the party leaders, who would meet and handover Naidu's letter and a booklet explaining the injustice done to the state and seek support.
(ANI)