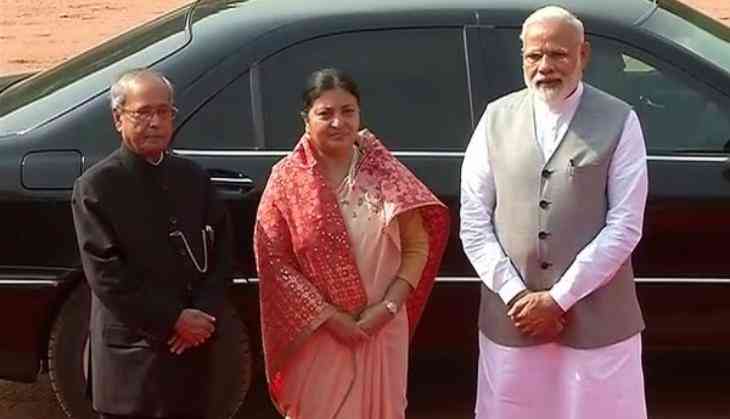 Nepal President receives ceremonial reception at Rashtrapati Bhawan (ANi)
Nepal President Bidya Devi Bhandari on Tuesday received ceremonial reception at the Rashtrapati Bhawan here.
She was welcomed by President Pranab Mukherjee and Prime Minister Narendra Modi. Bhandari will hold meetings with President Mukherjee and Prime Minister Modi later in the day.
Vice President M. Hamid Ansari, External Affairs Minister Sushma Swaraj, Union Home Minister Rajnath Singh and Finance Minister Arun Jaitley will also call on the visiting dignitary.
The Nepal President is also scheduled to attend a business event. She will be accorded ceremonial reception at the forecourt of Rashtrapati Bhavan. President Mukherjee will also host a state banquet in honor of the visiting dignitary.
Bhandari arrived in New Delhi yesterday afternoon on a five-day visit to India. She is being accompanied by a high-level delegation comprising Ministers, Members of Parliament and senior officials.
The visit is taking place in the backdrop of intensified bilateral engagements at the political and official levels in recent times.
In the last six months, this is the fourth visit to the Head of State or Head of Government level between the two countries which is unprecedented.
There had been more than 30 official and ministerial level engagements since the state visit of President Mukherjee to Nepal in November last year which clearly illustrate the wide range and depth of cooperative ties with Nepal.
The visit reflects the priority that both the nations attach to further strengthening of their age-old and unique partnership, underpinned by shared historical and cultural linkages and strong people-to-people connections.
-ANI