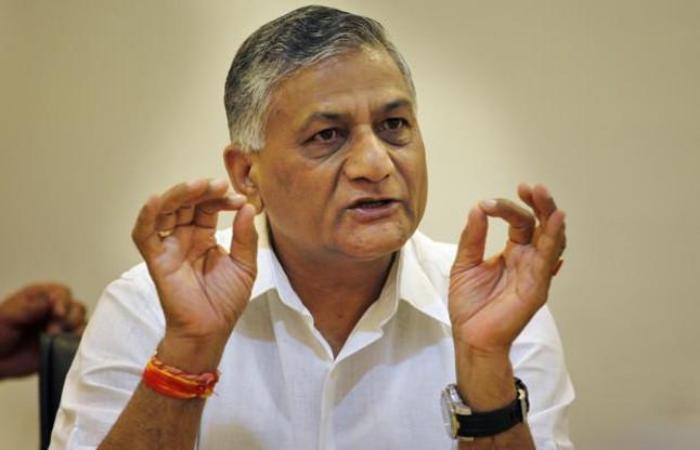 Trouble is mounting for Union Minister VK Singh over his controversial comment on the two dead Dalit kids with NDA allies Jitan Ram Manjhi and Ram Vilas Paswan criticising the minister's stance on the issue.
"This incident has nothing to with the Central government. This is the failure of state government. If someone throws stones at a dog, the government is not responsible," he minister had said.
Calling the minister's mindset 'feudal', Mahadalit leader Jitan Ram Manjhi, and NDA's ally in Bihar elections said, "The incident itself is a blot on humanity. Such an incident in the 21st century, to burn someone alive is a maha paap (cardinal sin). After this if someone compares it to throwing a stone at a dog, this is a maha-galti (huge mistake). He should not have said this. It shows his samant wadi (feudal) mindset."
Another ally of NDA in Bihar elections, Lok Jan Shakti Party leader Ram Vilas Paswan too hit out at the minister asking him to refrain from making such statements. "I don't descend to such low talk, have never done it with any issue," he said.
Paswan, who is General Singh's cabinet colleague also said, "I don't descend to such low talk, have never done it with any issue."
Meanwhile in Delhi, Aam Aadmi Party has already filed a complaint against Union Minister VK Singh in Parliament Street Police station for his controversial comment.
Demanding Singh's arrest, AAP spokesperson Ashutosh said, "VK Singh has insulted Dalits and he should be arrested under the SC/ST Act. The Additional Commissioner of Police has assured us that they will conduct an investigation and VK Singh will be questioned."
Two Dalit children had died in a fire reportedly started by upper caste people in Sunped village in Faridabad district on 19 October.