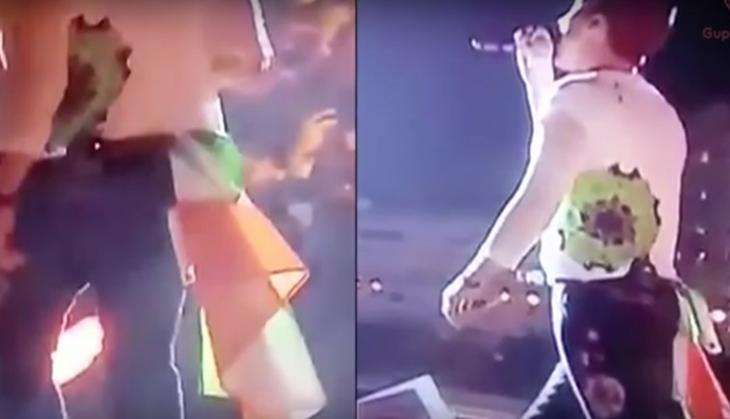 Nationalist Congress Party spokesperson Nawab Malik has alleged that lead singer of British rock band, Coldplay, "disrespected" the Indian flag during the band's concert in Mumbai on 19 November.
"There is a video grab from Coldplay's concert in Mumbai, where the band's lead singer is seen insulting the Indian flag," Malik alleged.
Chris Martin, the band's lead singer, tucked the tricolour inside his back pocket of pants during his performance.
According to unconfirmed media reports, an FIR has been filed against the band.
The former Maharashtra minister sought an unconditional apology from the singer, along with BJP and Shiv Sena leaders who were present at the concert, for allegedly 'hurting the sentiments' of Indians.
The video of the alleged incident has gone viral on social media.
The band, lead by its frontman Chris Martin, ended the Global Citizen Festival India concert on a high note on 19 November by singing 'Vande Mataram' with music maestro AR Rahman. The band performed several memorable songs, including 'Paradise', 'Viva La Vida', 'Yellow', 'Fix You', for over an hour at the MMRDA grounds.
Several Bollywood celebrities and some international artists also shared the stage. Among the celebrities present at the gala were Amitabh Bachchan, Alia Bhatt, Ranveer Singh, Katrina Kaif, Sonakshi Sinha, Parineeti Chopra, Monali Thakur, Arijit Singh, Arjun Rampal, Suzanne Khan as well as Maharashtra Chief Minister Devendra Fadnavis.
Prime Minister Narendra Modi, who was earlier supposed to attend the event, could not make it. He, however, joined the event via a video link that was beamed live.
--With PTI inputs