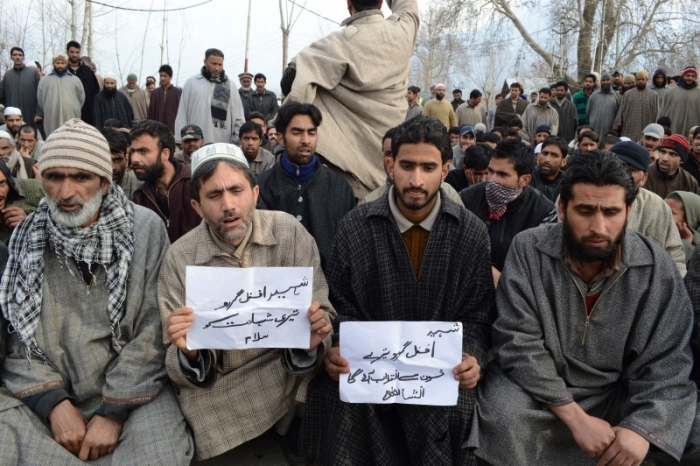 After Yakub Memon's last rites, the demand for return of the mortal remains of Parliament attack convict Mohammad Afzal Guru to his family members has resurfaced.
The National Conference (NC), which had to pay a heavy price for the hanging of Afzal Guru by losing both Parliament and assembly elections, has jumped onto the bandwagon as well.
"How can you justify not handing over the body of Afzal Guru to his family when you handed over the body of Yakub Memon to his family? The system of justice cannot have different interpretations for different people. What justice is it to deprive a young child of the dead body of his father?" asked Aga Syed Ruhullah Mehdi, NC chief spokesperson.
Aga said his party would continue to raise the demand of the return of Guru's mortal remains and would exhaust all possible options to pursue this cause of justice.
"NC working president Omar Abdullah had written to the then prime minister demanding the return of the mortal remains of Afzal Guru. National Conference has repeatedly raised this demand even on the floor of the Legislative Assembly," he said.
Guru was hanged and buried in Tihar jail on 9 February 2013 after his mercy petition was rejected by President Pranab Mukherjee.
Since his execution separatists and mainstream parties have been rallying for the return of his remains to his kin in the Kashmir valley.
Meanwhile, speaking to DNA, Tabassum Guru, wife of Afzal Guru, said that injustices have been meted out to them all along but they continue to demand the mortal remains of Afzal Sahab. "We shall continue raise this issue till our last breath," said Tabassum.
The architect of the 'Save Afzal Guru Resolution' and president of Awami Itihaad Party (AIP) Sheikh Abdul Rashid aka Engineer Rashid, said: "The Centre does not treat Kashmir as an internal part [of India]. They treat Kashmiris as second-class citizens. Kashmiris are being deprived of all their rights which other citizens enjoy. That is why they did not give body of Guru to his family. But Yakub Memon's family was given the body for last rites," he said.
Engineer Rashid's resolution seeking the mortal remains of Guru was dropped by the Legislative Assembly after it was selected in the draw of lots.
Rashid's earlier resolution seeking amnesty for the Parliament attack convict in 2011 was put off by the then speaker Mohammad Akbar Lone, who adjourned the House without tabling the resolution for discussions following a ruckus created by the Congress and BJP members.