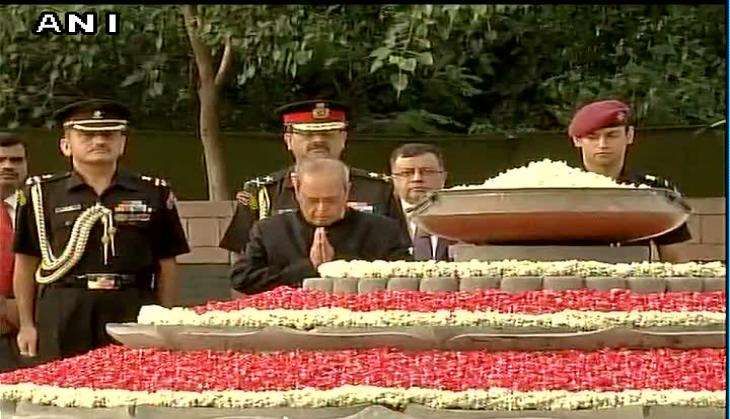 President Pranab Mukherjee led the nation on 20 August in paying homage to former prime minister Rajiv Gandhi at his memorial 'Vir Bhoomi' on the occasion of his 72nd birth anniversary.
Vice President Mohammad Hamid Ansari, Congress vice president Rahul Gandhi, former prime minister Dr Manmohan Singh, and other party leaders also paid tribute to the late leader, who was India's prime minister from 1984 to 1989.
Meanwhile, Congress leaders like Sheila Dikshit and Sachin Pilot paid their tributes to Rajiv Gandhi.
Also Read: Rahul Gandhi distributes vehicles to differently-abled on Rajiv Gandhi's birth anniversary

"Remembering Shri Rajiv Gandhi ji - youngest Indian Prime Minister of India on his birth anniversary," Dikshit said.
Rajiv Gandhi's birth anniversary is also observed as 'Sadbhavna Diwas'.
A recipient of the Bharat Ratna, Gandhi was assassinated in a suicide bombing at Chennai's Sriperumbudur on 21 May, 1991.
--ANI
Delhi: Rahul Gandhi pays tribute at Vir Bhoomi on the birth anniversary of former prime minister Rajiv Gandhi. pic.twitter.com/IiAa3Z6ThS

— ANI (@ANI_news) August 20, 2016
Delhi: Dr. Manmohan Singh pays tribute at Vir Bhoomi on the birth anniversary of former prime minister Rajiv Gandhi. pic.twitter.com/QKgUjSRHrf

— ANI (@ANI_news) August 20, 2016
Delhi: Dr. Manmohan Singh pays tribute at Vir Bhoomi on the birth anniversary of former prime minister Rajiv Gandhi. pic.twitter.com/QKgUjSRHrf

— ANI (@ANI_news) August 20, 2016