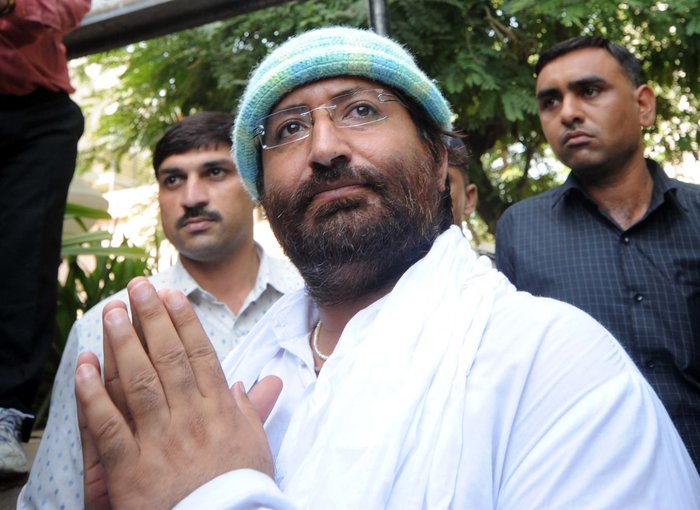 Narayan Sai, son of the self-stlyed godman Asaram Bapu and an accused in a rape case approached the Gujarat High Court seeking interim bail for a day to attend Guru Purnima festival on 31 July.
The Plea
. Sai had filed two separate pleas on July 20 for interim bail since he is an accused in two cases. The first case pertains to rape of one of the two Surat-based sisters while the second case pertains to bribery in order to cover up the case.
. On July 9, Surat's Additional Sessions Court H S Muliya rejected the plea for Sai's release for a day so that he could attend the religious festival as per Asaram ashram's tradition.
. In his plea before the court, Sai said that his ashram has a long tradition of observing Guru Purnima festival and being a religious leader of the ashram, he is needed to attend the event for which he should be released for a day.
. Both the pleas are likely to come up before the Gujarat High Court this week.
Who is Narayan Sai?
. Sai, who is Asaram's 42-year-old son, was booked in November 2013, after a case of rape was filed by one of the two Surat-based sisters who were inmates of his Surat ashram.
. Surat police had booked Sai under various sections of Indian Penal Code, including rape, unnatural sex, molestation, wrongful confinement and unlawful assembly as well as rioting with a deadly weapon, besides criminal intimidation and criminal conspiracy.
. In her complaint, the younger of the two sisters had accused Sai of repeated sexual assault between 2002 and 2005 when she was living at Sai's Surat ashram.
. Her elder sister, in her complaint against Asaram, had accused him of repeated sexual assault between 1997 and 2006 when she was living at his ashram on the outskirts of Ahmedabad.
. Asaram is currently lodged in a Jodhpur jail for alleged sexual assault of a minor daughter of one of his followers at his Jodhpur ashram last year.