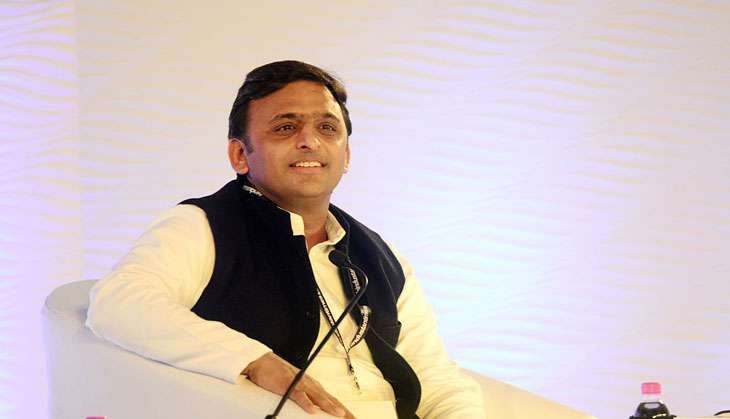 Taking a dig at Bahujan Samaj Party chief Mayawati, Uttar Pradesh Chief Minister Akhilesh Yadav said on 10 October that voters remember the BSP's proximity with BJP. Yadav said this in the light of Mayawati asking Muslims not to waste their votes on the Samajwadi Party as it would benefit BJP.
"She (Mayawati) says Samajwadis are divided while advising Muslims not to vote for SP. They (Muslims) know how close SP is to them. They have not forgotten who celebrated Rakshabandhan and who went to Gujarat for campaigning (for BJP)," Yadav said.
He was referring to Mayawati tying 'rakhi' to BJP leader Lalji Tondon and her campaigning in support of BJP in Gujarat. Putting Mayawati on the dock for her earlier alliance with BJP, Yadav asked, "Can she give assurance that if a majority government is not formed, she would not take the support of BJP."
On Mayawati's promise of giving out cash in place of smartphones, Yadav alleged that she is "infamous for cash. She has the habit of taking cash. Those who leave BSP blame her (Mayawati) love of cash as the reason".
"We have not yet made our election manifesto but they (opposition) are afraid. People have not yet forgotten doctor and engineer murder cases in the BSP regime and the wastage of money in constructing memorials. Her rallies also claim lives of people whenever they are held," he said.
On Mayawati's demand for division of UP into smaller states, Yadav said those talking of division could also divide the country as it was also very big.
"You talk of dividing the state...the country is also very big. You can divide it for your own interest," he said. Attacking BJP, Yadav claimed the party was used to lying.
"Where ever I go, from Muzaffarnagar to Ghazipur, people say BJP men lie a lot. I have yet to witness 'acche din', after the formation of Niti Aayog, UP has lost Rs. 9,000 crore. We are running schemes from our own resources," he said.
Claiming that if people of the state vote for development they would elect SP government again, Yadav said the Samajwadi Party government has taken a lead on the development front.
On opposition's allegations that his government did not distribute tablets to student as promised, Yadav said in a lighter vein, "They (opposition) have given so many tablets (medicine) to people that they are no more needed".
The chief minister on the occasion launched smartphone registration portal and an app related to traffic police.
He also highlighted his laptop distribution schemes and claimed that it "brought a change in the lives of students".
--PTI