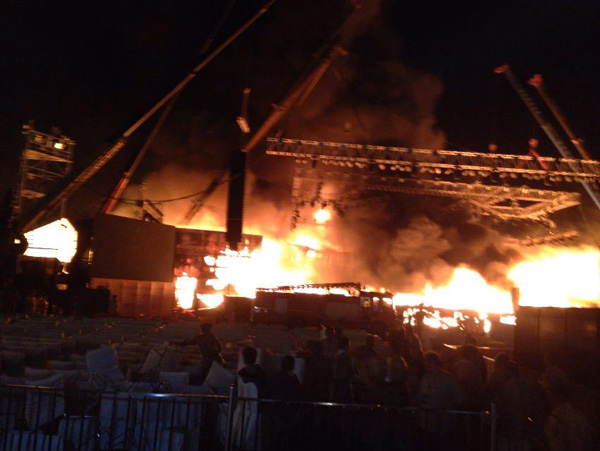 Initial investigations into the fire in Mumbai on 14 February, when the stage of a cultural event hosted by the Maharashtra government to celebrate Make in India Week burned down, indicate that fire safety corrections asked for by the Mumbai Fire Brigade on 13 February had not been made, reports The Indian Express. Worse: the mandatory compliance report had not been filed by the event organisers, and the organisers had not been pushed to do so by any of the city authorities. The Mumbai Fire Brigade also allowed the show to proceed without the compliance report.
A team of senior fire brigade officials that on 13 February inspected the arrangements made for Sunday's event had reported serious lapses in fire safety, including LPG cylinders and combustible paint equipment scattered beneath the stage.
The Mumbai Fire Brigade had then sent notices to the event management company handling the show, and the Confederation of Indian Industry (CII), partner of the government in the Make in India Week, asking them to correct these violations. Notices were also sent to the Mumbai Police Commissioner's office, which had issued the permission to hold the show at Girgaum Chowpatty, and the local assistant municipal commissioner.