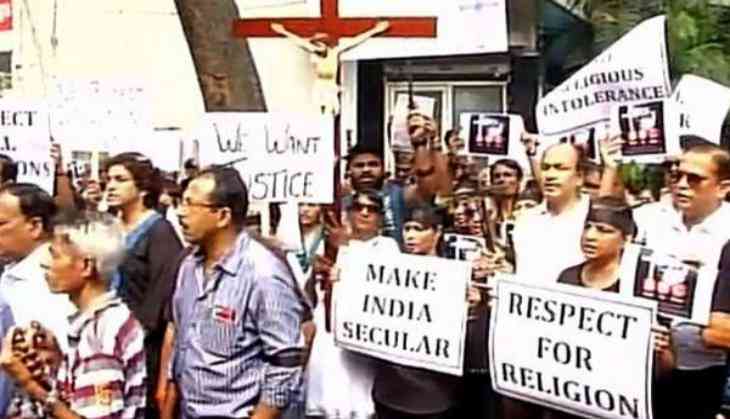 Mumbai Catholic associations protest over demolition of cross
Mumbai Catholic Associations on Wednesday held a silent protest against the Brihanmumbai Municipal Corporation (BMC) after they demolished a 122-year old holy cross in the city's Bazar Road area.
People carrying banners and black ribbons to their arms objected to the demolition of the sacred artefact.
'I am deeply hurt and sad after this incident; we are currently on a silent march. Despite believing in different religions, we should all live in harmony,' said a local priest, who participated in the protest.
Earlier this week, the Bombay High Court directed the BMC to remove all unauthorised religious structures. The court asked the BMC to remove 32 temples and six crosses from the H westward, which falls under Category 'B' of a 2011 BMC resolution related to religious structures.
Category 'B' pertains to illegal shrines that interfere with the city's development plans. The cross removal has elicited a sharp response from the Christian community.
(ANI)