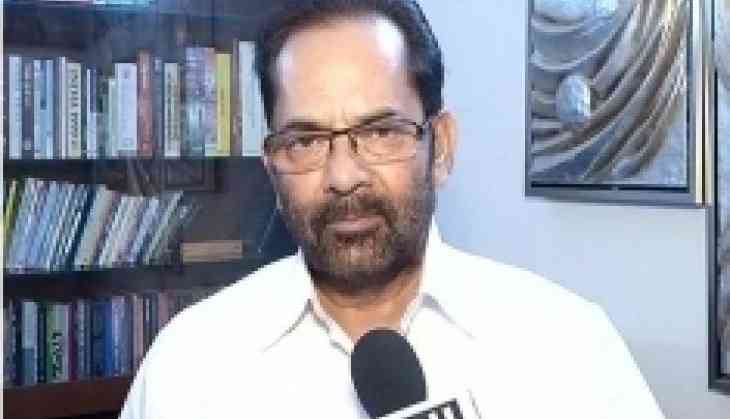 Mukhtar Abbas Naqvi says opposition should stop banging its head on EVMs (ANI)
On 13 April,Union Minister and Bharatiya Janata Party (BJP) leader Mukhtar Abbas Naqvi said that the Congress and other opposition parties should not bang their heads over the use or non-use of Electronic Voting Machines (EVMs) post their defeat in the recent polls.

Naqvi told ANI that the opposition parties should introspect as to why they lost instead of banging their heads about faulty EVMs.

"The Opposition parties should accept a fact that they have been mandated by the voters to sit in the opposition. Instead of crying foul play over the EVMs, they should introspect and correct the reasons behind their defeat," said Naqvi.

"Now, when the Election Commission has thrown open a challenge to them to examine the EVMs, they should come forward and try to do the same," he said.

The Election Commission yesterday issued a challenge to all political parties to prove that the EVMs can be tampered with. This came after Congress, Left, AAP and others claimed that the EVMs were tampered with to favour the BJP.

Refuting the charges of EVM tampering, Naqvi said, "The Congress formed two successive governments at the Centre when elections were held through EVMs. Similarly, Mamata Banerjee became chief minister of West Bengal, Arvind Kejriwal won Delhi, Akhilesh Yadav and Mayawati became chief ministers of Uttar Pradesh, Nitish Kumar became Bihar Chief Minister, and Left Parties won elections in EVM based elections."

Minister of State in the Prime Minister's Office (PMO) Jitender said, "It is a joke that when other political parties won elections conducted on EVMs then they didn't find blame with the machines, but when the BJP won then they alleged that the EVMs have been manipulated to help BJP."

He added, "One of our political friends even claimed that the EVMs were manipulated in such a way that every vote was going in the BJP's kitty. Should someone ask if this was the case then why did opposition parties win even few seats?"

He said the countrymen, especially 65 percent youths of this country believe in logic and not in leaders who only talk and don't deliver.
-ANI