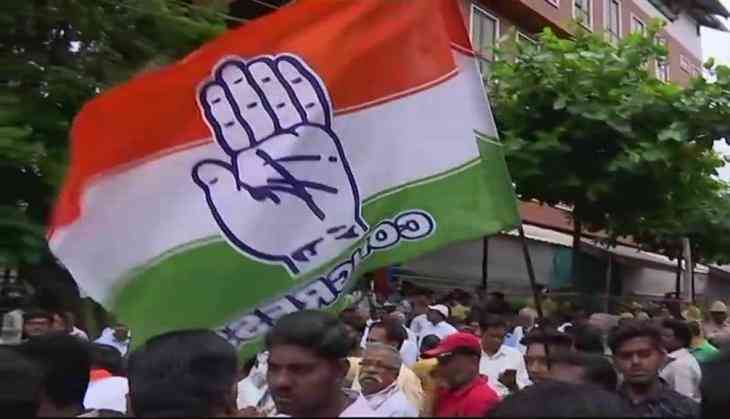 The Congress on Saturday promised 'Gaushalas,' 'Ram Path' and Naramada Parikrama Path and a spiritual centre to woo voters to its fold in Madhya Pradesh which goes to polls on November 28. The 'gaushala' or cow shelter will be set up in all village panchayats, which will be funded by the state government. The manifesto also promises to ban alcohol in the state.
In an attempt to outsmart the BJP, the Congress manifesto known as 'Vachan Patra' or 'Sheet of promises,' focuses on, among other things, the issues which have not only been close to its rival Bharatiya Janata Party's heart, but have also been giving political sustenance to the saffron outfit for long.
From having a special 'Parikrama path' around river Narmada to the construction of 'Ram path', the Congress has touched upon almost everything to appease Hindu voters. A special Spiritual Department will also be set up if the Congress is voted to power in the state, which has 230-member Assembly. The counting of votes will be done on December 11, 2018.
The Congress has promised special provisions for the development of Narmada, which includes the construction of a special path around the river for the devotees and a rest house at a distance of every 50-km. Like the BJP, the Congress party also seems to have found a hope in Lord Ram as the manifesto promises the construction of 'Ram Path,' a mythical path taken by Lord Rama during his 14 years long of exile. Congress' Ram Path will stretch from Chitrakoot to the borders of Chhattisgarh.
While promising a corruption-free government, the Congress has promised a Public Accountability Bill for transparency in governance, while there is a lot for farmers in the manifesto including loan waiver up to Rs 2 lakh, reducing electricity bill for agriculture use by 50 per cent, special bonus on production of cereals like wheat, paddy, jowar, maize, soyabean, mustard, and pulses like arhar, moong, channa, masoor; vegetables like onion, garlic, tomato, and crops like sugarcane and cotton. The manifesto also promises Rs 5 per litre bonus on milk besides giving rebate on diesel and petrol to farmers for agricultural use.
The 'Right to Shelter' law will entitle homeless people to Rs 2.5 lakh and 450 sq ft plot for the construction of houses, while the youth and women have been given the lure of 'Made in Madhya Pradesh,' which will focus on increasing employment generation for one lakh youth in the information and technology sector.
"A Vivekanand Yuva Shakti Mission" will be started under which Rs 4,000 per month will be given to youth for participation. To encourage employment and investment Rs 10,000 will be given as salary and grant. Vyapam will be shut down and job recruitment will be made transparent..." states the manifesto.
To promote sports and encourage sportspersons, the Congress has promised jobs to all international players. The players will be provided Rs 50,000 as honorarium in case they are not given jobs. Those players who win gold medals in Olympics will be given Rs 51,000 per month.
Under the 'One man, one pension' scheme, pension amount will be increased to Rs 1,000 from Rs 300, while under the 'Naya Savera' scheme, a rebate of Rs 100 on cooking gas will be provided to poor and labour class people.
For women, the Congress manifesto promises several special schemes which includes free education to girls from school till they complete PhD, smart phones, smartcards and health cards and Rs 51,000 to every young woman who gets married. Women in rural areas will be provided with sewing machines and will be trained to be self-reliant.
During the manifesto release, former Union Minister and Congress leader Kamal Nath said: "Today is a historic day for Madhya Pradesh. This is not a manifesto but a promise. Today, people of all categories are hassled. We have made this manifesto after having discussion with everyone. BJP has given the people a 'jumla' manifesto. After December 12, Madhya Pradesh will be taken to a new direction of improvement. I feel that people have realised the truth."
Jyotiraditya Madhavrao Scindia said: "Today is an important day for Madhya Pradesh. Our vision aligns with the development of the people. For the first time, an oath is being taken in the form of manifesto. Announcements for the last 15 years have been futile for the state and its people."
OTHER KEY PROMISES:
* The students who get 70 per cent marks in Class XII board examinations will get free laptops, while college going girls will get two-wheelers at concessional rates.
* Special transgender board and special General Category Commission besides having provisions for sub schemes for Scheduled Castes, Scheduled Tribes and the Other Backward Classes.
* A better tax regime and special rebates for the cottage and agricultural industries under the Goods and Services Tax.
* 24 x 7 electricity for industry and household users.
* Manual scavengers and sewage cleaners will get insurance cover of Rs 25 lakh.
* Special Welfare Board for rickshaw pullers.
* Senior Citizen Welfare Board. Senior citizens will also get Rs 1 lakh as honorarium.
* Special Security Bill will for lawyers and journalists. Rs 10,000 monthly honorarium for journalists who have worked regularly for 25 years and have attained the age of 60.
* Special allowance package of 50-75 per cent to doctors, nurses and para-medical staff working in tribal areas.
* Four new medical colleges in the state. District hospitals will have nursing and para-medical courses in the curriculum.
-ANI