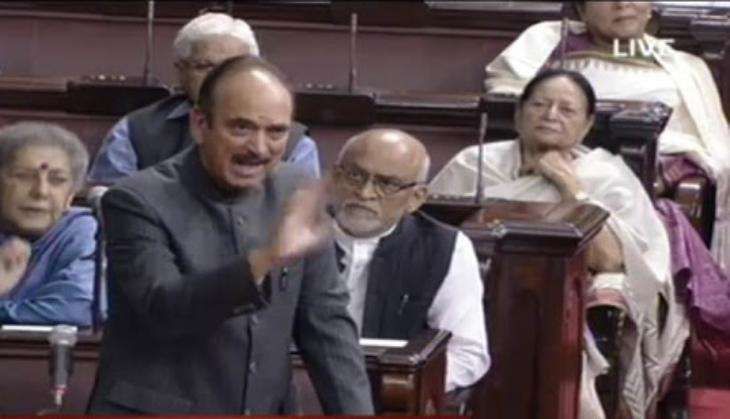 Congress today raised questions over Prime Minister Narendra Modi's remarks on 'insaniyat', 'jamhooriyat' and 'Kashmiriyat' and said an appeal should be made to Kashmiris from the "heart" and not just "lips" to enable "integration of minds and heart".
As Rajya Sabha took up a discussion on the prevailing situation in Kashmir, Leader of Opposition Ghulam Nabi Azad pitched in for sending an all-party delegation to the Valley besides an appeal by the Parliament to end the violence prevailing in the state for last 33 days.
"We should appeal for peace and tranquility from here for better future of Kashmir. This kind of unison voice should go from Parliament. That apart, an all-party delegation should go there," the Congress leader said, adding the announcement should be made immediately as the session is coming to an end in two days.
Initiating the discussion, Azad criticised the Prime Minister for his "delayed" comments on the Kashmir situation and said even those were made at a rally in Madhya Pradesh rather than in Parliament.
"We are discussing the Kashmir issue for the fourth time. The Prime Minister should come. The Prime Minister chose Madhya Pradesh to speak on Kashmir. He did not come to this House," he said, adding "Since when has Madhya Pradesh become the capital of the country?" Azad took a swipe on Modi regarding his statement on 'Insaniyat (humanity), Jamhooriyat (democracy) and Kashmiriyat, saying such statements only suited former Prime Minister Atal Bihari Vajpayee.
"Such words sound weird if it comes from someone who does not believe in them," he said. The former chief minister of Jammu and Kashmir said such words should come from the "heart" and not only from the "lips".
-PTI