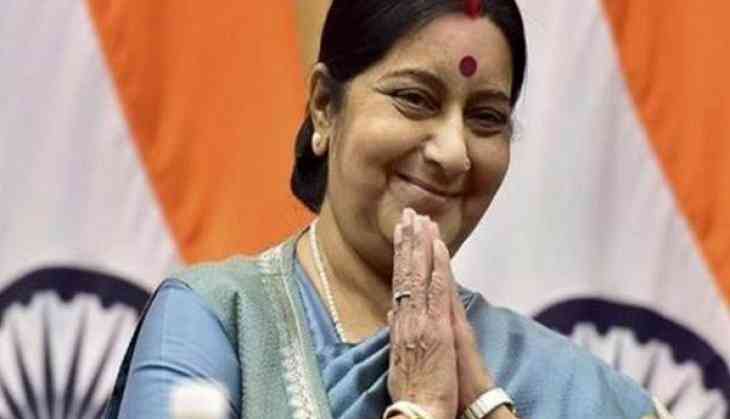 Union Minister and MJ Akbar have been named in the social media's #MeToo campaign. The former senior journalist has been accused of sexual harassment by several junior women journalists. However, MJ Akbar's boss and Minister of External Affairs Sushma Swaraj did not respond to the media's queries on the case.
"There are serious allegations...these are sexual harassment allegations. You are a woman minister in charge. Will, there be a probe on the allegations," a reporter asked Ms Swaraj. The foreign minister chose to walk past without a word.
#Breaking
EAM @SushmaSwaraj refuses to react to direct questions on allegations of #SexualHarrasment against her junior minister @mjakbar.@IndiaToday @aajtak @priyaramani pic.twitter.com/bqyeu3Bapg

— Geeta Mohan گیتا موہن गीता मोहन (@Geeta_Mohan) October 9, 2018
Sushma Swaraj not responding to the question on the allegations of sexual harassment might worsen the matter. MJ Akbar, a former journalist who is now a Minister of State in the MEA and a Rajya Sabha MP.
The first accusation against the former senior journalist came in a tweet by journalist Priya Ramani, who identified Akbar as the unnamed editor in her article in Vogue India in October 2017 whose inappropriate behaviour she had written about.
The journalist Priya Ramani said that Akbar invited into a hotel room in Mumbai around 7 pm for an interview when she was 23 and he was 43.
M J Akbar has been the editor of prominent newspapers like The Telegraph, Asian Age and The Sunday Guardian. He is a member of the Rajya Sabha from the Bharatiya Janata Party.
Also read: M J Akbar under #MeToo: Women Journalists accuses former Editor of sexual harassment; said, 'called in hotel room for interview'