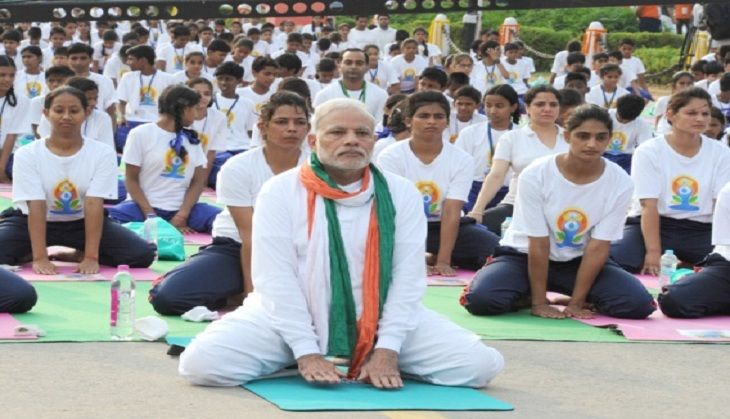 In a bid to promote the practice of yoga, the Ministry of Human Resources and Development (MHRD), sent a directive to their subsidiary organisation - the National Council for Promotion of Urdu Language (NCPUL), to ensure that yoga classes are introduced in 500 of its educational centres.
With International Yoga Day coming up on 21 June, the Ministry specifically directed the NCPUL to prepare for celebrations for the same. A circular was issued to all of its centres by the NCUPL, intimating them about the MHRD's directions. Some executive members of the NCUPL are opposed to the idea of yoga being made compulsory at NCUPL centres, as most of them are located in madrasas or minority institutions. It is being anticipated that such a move would fuel unnecessary disorder.
According to a report in The Wire, the order issued by the Ministry contained an advisory note listing the health benefits of yoga, along with a list of instructions that explain the procedures for performing the various asanas. The order also recommends that 45-minute long classes are to be conducted every day.
Established in the year 1996, the NCPUL is an autonomous body under the MHRD, primarily set up to promote Urdu. However, with the passage of time, several technical and vocational courses have also been introduced. The MHRD order, however, requires the NCPUL to function outside of its mandate. Members of the executive board are expected to raise this issue during their next meeting, as they fear the present director's decisions may have compromised the institution's autonomy.
According to a report in TheWire, Tariq Anwar, board member and Nationalist Congress Party leader, said: "I am not against yoga but I oppose the imposition of it in NCPUL centers. The MHRD should have first tried to interest the NCPUL students in yoga. Interested students could then come forward themselves and join yoga classes. They should have that choice."
In the same report, Vice-Chairman of the NCPUL Muzaffer Hussain, while questioning NCPUL's Director Irteza Karim's intentions, was quoted as saying:"Yoga is a Hindustani tradition, but people should exercise their discretion to practice it. Such imposition of it makes the MHRD order look suspect. The NCPUL could have chosen to write a strong letter against such an imposition. But the present director is bent on projecting himself as Hindutva ka thekedar (Hindutva's agent). He was recently appointed by the NDA government and has openly publicised positions in favour of the
BJP
. The NCPUL has become a dysfunctional body - almost a symbolic one. The present director has made no efforts to strengthen the institution from the time he has joined. We want him to do his job instead of pandering to the whims of the government."