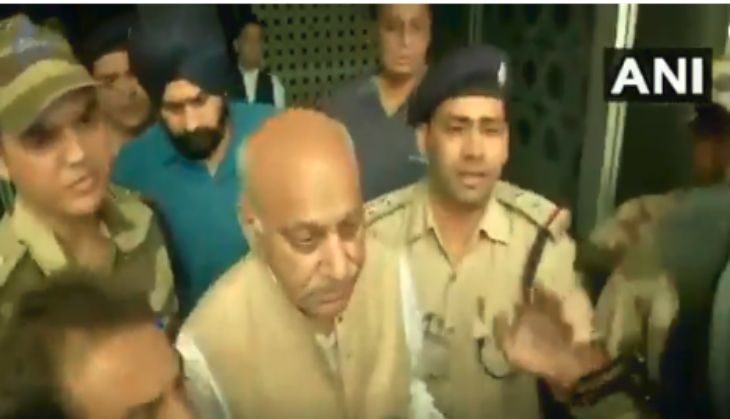 MJ Akbar, Union Minister of State in the External Affairs Ministry returned Delhi from his Africa visit on Sunday morning amid the ongoing controversy over the sexual harassment by multiple women journalists and resignation calls from several corners of the country. However, he refused to speak to the media on the allegations leveled against him.
As per government sources, a final call will be taken by the Narendra Modi government on whether to retain him as a minister or concede to the demand for his removal.
"There will be a statement later on," Mr Akbar told reporters as he came out of Delhi airport, news agency ANI reported.
#WATCH Delhi:Union Minister MJ Akbar returns to India amid accusations of sexual harassment against him, says, "there will be a statement later on." pic.twitter.com/ozI0ARBSz4

— ANI (@ANI) October 14, 2018
Sources in the BJP admit that the charges against him are serious and his berth on the cabinet can no longer be guaranteed. A final call on the matter will be taken by Prime Minister Narendra Modi, they told news agency PTI.
MJ Akbar was in Nigeria when his name slipped in a #MeToo movement on social media earlier this week. Around 10 women journalists have accused him of sexual harassment. Meanwhile, this is the first comment that MJ Akbar has made on the sexual harassment allegations levelled against him.
On Thursday, Union Textile Minister Smriti Irani said, "Anybody who is speaking out should in no way be shamed, victimised or mocked". Union Minister of State for Social Justice and Empowerment Ramdas Athawale was more direct. "MJ Akbar should resign if charges are proven true," he said. While the opposition is clear on his resignation demands.
Also read: Hamid Ansari, former Vice President, raised questions over the failure of the police administration during the Gujarat riots; here's what he sai