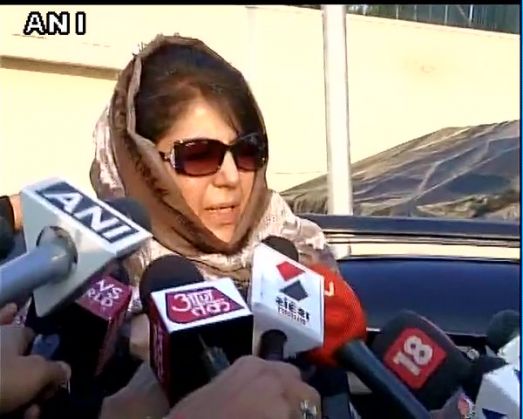 The People's Democratic Party on Thursday formally nominated Mehbooba Mufti as their legislature party leader, thus making her set to become the first woman chief minister of Jammu & Kashmir.
"Thank you for choosing me as the leader of PDP legislature party. You all are my strength," said Mehbooba.
Mehbooba will meet state Governor NN Vohra today to stake a claim to form a government, said PDP leader Muzaffar Baig.
Mehbooba was formally proposed by senior party leader Altaf Bukhari to head the party in the state assembly, and her nomination was unanimously approved, according to the Hindustan Times.
Since she is a Member of Parliament, representing south Kashmir's Anantnag constituency in the Lok Sabha, Mehbooba will now have to resign her Lok Sabha seat and get elected to either house of the state legislature.
Thursday's PDP meeting for a formal nomination of a party legislature leader came after Mehbooba's meeting with Prime Minister Narendra Modi in Delhi on Tuesday, which finally ended the two month-long stand-off between coalition partners BJP and PDP in Jammu and Kashmir.
The state has been under governor's rule since the death of its chief minister, Mufti Mohammed Sayeed, Mehbooba's father, on 7 January. Though Mehbooba could have stepped in as CM after his death, she went head to head with the BJP over the two parties' agenda of alliance, asking for confidence-building measures from the Centre.