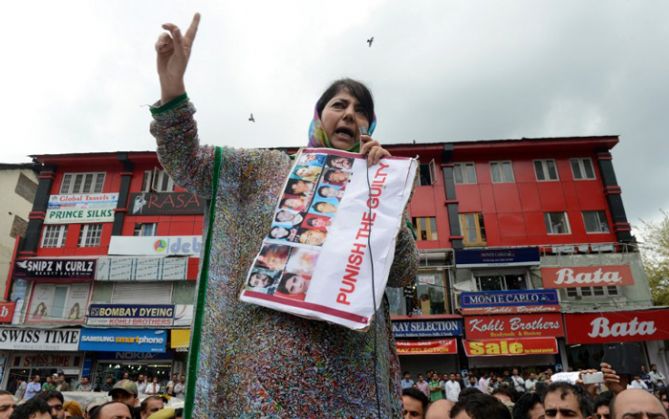 Peoples Democratic Party (PDP) president Mehbooba Mufti took oath as the first woman chief minister of Jammu and Kashmir, on 4 April.
Governor NN Vohra administered the oath of office to 56-year-old Mehbooba, along with her council of ministers.
Meanwhile, BJP's Nirmal Singh also took oath as deputy chief minister.
Union Parliamentary Affairs minister M Venkaiah Naidu and minister of state in the Prime Minister's Office (PMO) Jitendra Singh, among many others, were present during the swearing-in ceremony. The Congress Party boycotted the ceremony.
The Governor had invited Mehbooba to form and lead the PDP-BJP coalition government in the state.
Jammu and Kashmir was put under Governor's Rule on 8 January, a day after the then chief minister, Mufti Muhammad Sayeed, passed away in New Delhi.
The PDP and the BJP had staked a claim for government formation on 26 March, two days after Mehbooba was elected as PDP's legislature party leader.
Mehbooba had earlier met Vohra and staked her claim to form the government with the support of 25 MLAs of the BJP. The PDP has 27 MLAs in the 87-member state Assembly.
-ANI