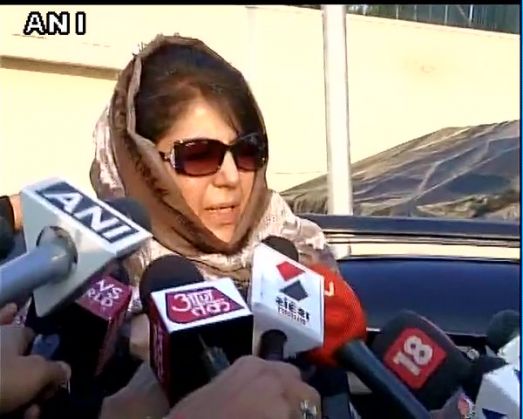 Possibly indicating that the PDP would form a government with the BJP in Jammu and Kashmir, People's Democratic Party president Mehbooba Mufti said on Sunday that her late father, Mufti Mohammed Sayeed, had "never believed in U-Turn politics" and that she had faith in his decision, reports The Economic Times.
"I have faith in Allah and on the decision of Mufti Sayeed sahib... prosperity of J&K and country will be our priority," Mehbooba said as she addressed about 2,000 party workers at the Srinagar office of the PDP.
She added that that she would take over as chief minister of J&K if it brought peace to J&K and the state could act as a bridge between India and Pakistan.
"Mufti sahab believed that a leader like Modiji with his huge mandate and courage can take decisions which can bring India and Pakistan close," said Mehbooba. "As much as we doubt New Delhi, they doubt us equally. To end this mutual suspicion, Mufti Sayeed took this decision (of aligning with BJP) at this age and made a huge sacrifice."