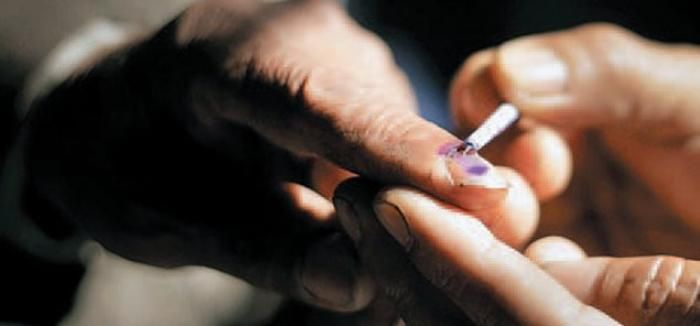 Trendy marker pens could soon replace bottle and brush at polling booths for marking index fingers of voters with indelible ink as a proof that they have voted.
The Election Commission has started "testing" the marker pens, provided by Mysore Paints, as replacement for bottles of indelible ink and brushes. Indelible ink has been an integral part of Indian elections since 1962.
The move to go for marker pens was initiated following feedback the EC received from voters, especially the youth, that marking done by brushes is not neat. The other major reason is that pens will be easier to store and transport than bottle along with a brush.
The marker pens provided by Mysore Paints were used in the recently-held elections in Afghanistan.
"We are currently testing the marker pens. No final decision has been taken yet on their large-scale use. Much will depend on the results," said an EC official.
Officials, however, did not specify whether it was used in the just-concluded Bihar assembly elections.
Indelible ink is used to mark voters' fingers during polling to avoid fraudulent, multiple voting and malpractices.
Once it is applied on finger, it remains for a few months, the company has claimed, although there have been reports of some people managing to erase it.
A bottle of indelible ink contains 10 cubic centimetres (cc) whereas a pen will have much lesser capacity of 3 cc. As per modern measurement methods, one cubic centimetre is equivalent to one millilitre.
A Karnataka government undertaking, Mysore Paints and Varnish Limited provides the famous indelible ink to all states in India and even some foreign countries.
In 1962, the Election Commission, in collaboration with Law Ministry, National Physical Laboratory and National Research Development Corporation, made an agreement with Mysore Paints for supply of indelible ink for Lok Sabha and Assembly elections. Since then, it has been supplying the ink for elections in India.
Following complaints that indelible ink or voter's ink is not being applied properly by poll officials, the Election Commission had issued orders saying the ink should be applied using a brush specifically provided for the purpose.
The March 2015 order makes it clear that the ink "will be applied on voter's finger with the help of brush from top of the nail to the bottom of the first joint of the left forefinger". Use of brush will ensure that besides being bigger, the ink mark will also be bolder and more prominent.
There have been complaints that poll officials use match sticks, instead of a brush, to apply ink. In such cases, the ink is barely visible and often leads to allegations that people have tried to remove it in a bid to cast vote again.
-PTI