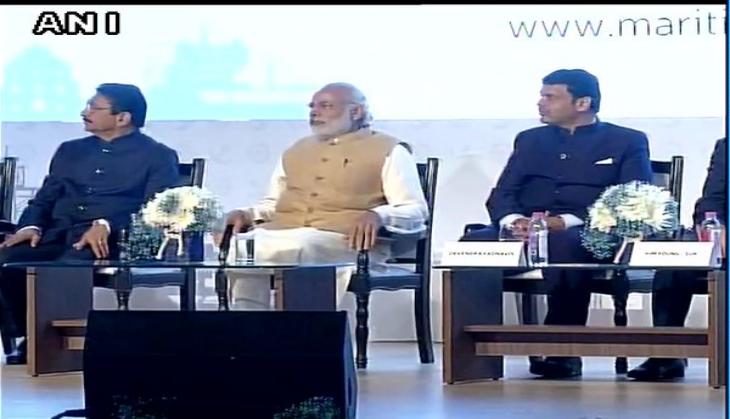 Prime Minister Narendra Modi on 14 April, inaugurated the three-day Maritime India Summit 2016 in Mumbai with the objective of attracting potential investors to the various opportunities that the components of the maritime sector offers.
During his address, PM Modi said, "We have embarked on the development of National Waterways in keeping with Babasaheb's vision and foresight."
Mentioning that it is the "first time that a global event on such a large scale is being organised by India" the prime minister said, "we have to make sure that our lifestyle, transport systems and trading behaviour do not spoil the ecology of the oceans."
Union Shipping and Ports Minister Nitin Gadkari was also present at the inauguration of the summit. He announced that the Centre has launched an ambitious program 'Project Unnati' and it intends to double the capacity of ports within the next decade.
"We have launched an ambitious program 'Project Unnati' to modernise our major ports. The major ports had registered record profits of USD 650 million (Rs 4,200 crores) in 2015-16. The turnaround time in ports has reduced by 20 per cent, enabling customers to save over USD 200 million (Rs 1,300 Cr).
"In Jal Marg Vikas project we are investing over USD 600 million to make Ganga navigable from Varanasi to Haldia covering a distance of 1,620 kilometres," Gadkari said.
"It is a fitting tribute to Dr. Babasaheb Ambedkar that the first Maritime India Summit is happening on his birth anniversary," he added.
"Dr Ambedkar established the central waterways, irrigation and navigation commission in 1945 and provided the vision of river navigation," he further said.
The Union Minister also praised Prime Minister Narendra Modi for giving his "personal attention" to the maritime sector, describing it as is a great motivating factor for all to reach new heights.
-With ANI inputs