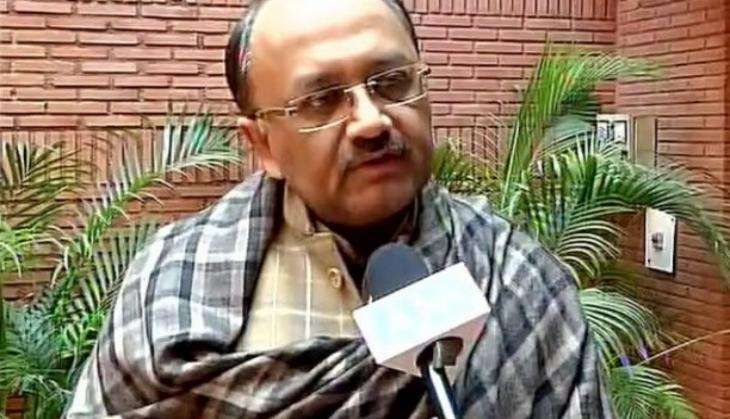 Launching a frontal attack on West Bengal Chief Minister Mamata Banerjee a day after she lashed out at Prime Minister Narendra Modi following the arrest of her party MP Sudip Bandyopadhyay, the Bharatiya Janata Party (BJP) on Wednesday said she must understand that TMC leaders cannot be absolved of corruption charges through violence.
BJP leader Siddharth Nath Singh said the TMC supremo needs to introspect why the TMC leaders and particularly elected Members of Parliament are being arrested for their involvement in a chit-fund company.
"If Mamata Banerjee wants to say it's going to be Trinamool-bandi, let me assure her that the BJP is determined. Because Bengal needs to be free of 'bhrashtachar-bandi' & 'gunda-bandi' and we will remove 'bhrashtachar-bandi' & 'gunda-bandi'."
"She needs to introspect because she came to power in the name of poor, marginalised and downtrodden, but here the poor have been cheated and looted by these chit-fund companies and your party members and your representative are seen as being involved," he said.
Singh's reaction came as Bengal BJP leader Krishna Bhattacharya's house was allegedly attacked last night by TMC workers protesting Bandyopadhyay's arrest in the Rose Valley chit-fund scam.
The police have registered a case in this regard.
Bandyopadhyay's arrest has unleashed intense clash between the BJP and TMC workers in various parts of West Bengal.
Stones were pelted at the BJP headquarters in Kolkata, leaving several of its workers injured.
Bandyopadhyay was arrested on Tuesday hours after he appeared before the Central Bureau of Investigation (CBI) for interrogation in connection with this scam.
"I have come to clarify my position on whatever questions they have," Bandyopadhyay said, prior to entering the CBI office.
Soon after his arrest on Tuesday, Mamata trained her guns at Prime Minister Modi and BJP president Amit Shah. She alleged that it was a ploy by the BJP-led Centre facing opposition post demonetisation.
Mamata said that she would fight the battle legally and seek justice from the court.
--ANI