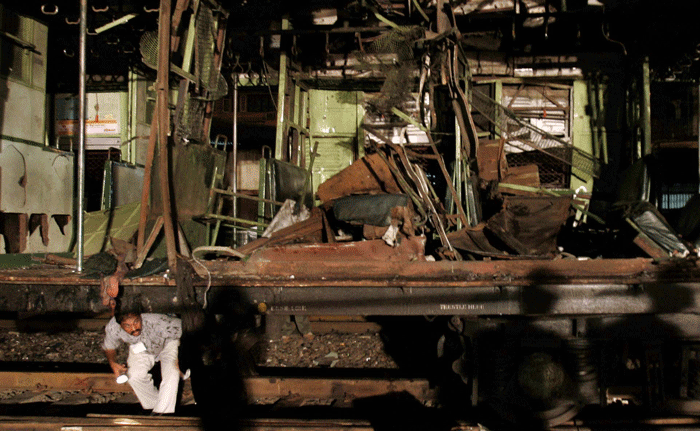 A special Maharashtra Control of Organised Crime Act (MCOCA) court has announced the quantum of punishment for convicts in the 7/11 Mumbai serial train blasts.
Five convicts who were convicted for planting bombs have been given the death sentence. Rest of the seven convicts have been sentenced to life imprisonment.
Here are 9 facts about the horrific blasts that you must know:
1. On 11 July, 2006, seven blasts in first-class compartments of local trains rocked India's financial capital, killing 189 and leaving more than 700 injured.
2. The blasts occurred at Matunga, Bandra, Khar, Jogeshwari, Borivali and Bhayandar. The first blast was at around 4.35 pm; the rest followed in the next 11 minutes.
3. Azam Cheema, the main conspirator in the case and a Lashkar-e-Taiba handler, as well as 14 others are absconding.
4. They rented houses in Mumbai and its suburbs such as Malad, Bandra and Borivali. Twenty kg of RDX was brought in. Eight pressure cookers were also bought from two shops in Santa Cruz.
5. Explosives were stuffed in pressure cookers and kept in the eastern suburb of Govandi, where the bombs were assembled.
6. The 7/11 conspiracy was hatched at Cheema's Bahawalpur house along with a group of SIMI activists.
7. It took the MCOCA court eight years to announce the verdict. In the eight years, the prosecution examined 192 witnesses, including eight IPS and five IAS officers as well as 18 doctors. The defense produced 51 witnesses and the court examined one witness suo motu. The deposition by witnesses ran into around 5,500 pages.
Also read: After 8 years, special court convicts a dozen for 2006 Mumbai train blasts
8. According to KP Raghuvanshi, who headed the Mumbai Anti-terrorism squad (ATS) at that time, the conspirators wrapped the cookers in newspapers and covered them with black plastic bags, then took eight different trains from Churchgate station and abandoned them on the trains.
9. The five convicts who got the death sentence are Faisal Sheikh, Asif Khan, Naveed Khan, Kamal Ansari, Ehtesham Siddiqui.