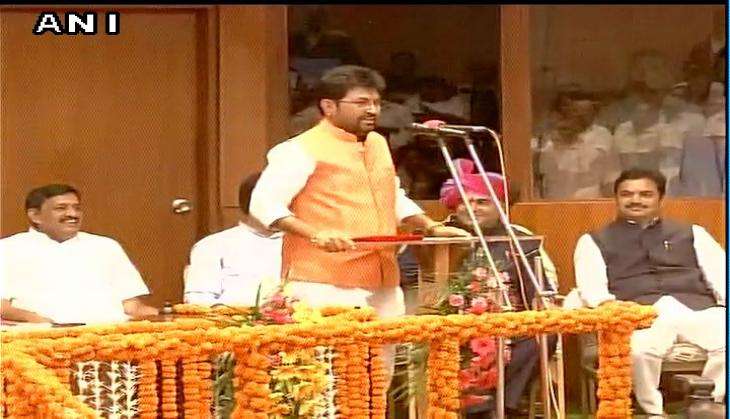 On 8 July, Maharashtra Chief Minister Devendra Fadnavis expanded his Cabinet by inducting 10 ministers in the government. No ministers were dropped in the reshuffle.
The oath-taking ceremony took place at 9:15 am in Mumbai.
One existing minister has been elevated to cabinet rank, thus bringing the total strength of minsters in the cabinet to 39. Maharashtra Governor C Vidyasagar Rao in the presence of the Chief Minister and other ministers administered oath to 11 ministers at the Parishad hall in Vidhan Bhavan.
The new ministers inducted in the government include two faces from Shiv Sena. However, Shiv Sena president Uddhav Thackeray was not present at the oath-taking ceremony.
The newly-inducted ministers are:
Bharatiya Janata Party
Pandurang Pundalik Fundkar
Madan Madhukarrao Yerawar
Sambhaji Patil Nilangekar
Jaykumar Rawal
Ravindra Chavan
Subhash Sureshchandra Deshmukh.
Shiv Sena
Arjun Khotkar
Gulab Raghunath Patil
Swabhimani Paksha
Sadabhau Khot
Rashtriya Samaj Paksha
Mahadev Jankar
Mahadev Jankar, Pandurang Phundkar, Subhash Deshmukh, Jaikumar Raval, and Sambhaji Patil- Nilangekar took oath as Cabinet-rank ministers, while Gulabrao Patil, Arjun Khotkar, Ravindra Chavan, Madan Yerawar and Sadabhau Khot were made Minister of State.
BJP's Minister of State for Home Ram Shinde has been elevated to Cabinet rank.
- With ANI inputs