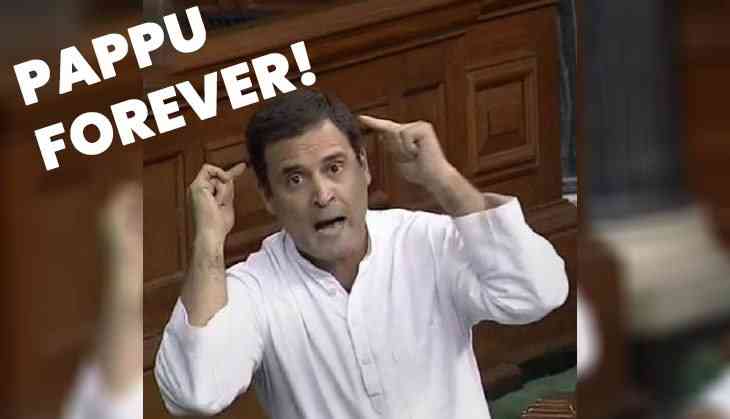 Lok Sabha Election Results 2019 has left oppositions stunned as PM Modi-led NDA has gained 303 seats out of 542. This time Congress President Rahul Gandhi has faced a huge defeat after losing Amethi, the constituency in Uttar Pradesh that he has been winning effortlessly since 2004.
During a press conference, Rahul Gandhi also said, 'I want Smriti Irani ji to take care of Amethi with love.'
The 48-year-old politician got brutally trolled for losing Amethi and also his leadership being questioned after the major defeat in the Lok Sabha Elections 2019.
However, the scenario has been cleared that Narendra Modi-led NDA proved itself in the eyes of the voters and win the Lok Sabha Election seats with a majority. Now, PM Modi all set to form the government for the second time in India and likely to take oath as PM on 28th May 2019.
Meanwhile, this would be the toughest time for Rahul Gandhi as he the saffron party followers on social media took a dig at the Congress President from all corners.
Check out some memes on Rahul Gandhi:
If "काम का न काज का दुष्मन अनाज का" had a face.  #Elections2019 #Rahulgandhi pic.twitter.com/J9CeMWsrpq

— Vikas Giri (@VGXIIIIXXV) May 10, 2019
Whatever happens we still stand with him!#rahulgandhi pic.twitter.com/kCvJm4VEDv

— Brida💛 (@brida1905) May 23, 2019
#RahulGandhi wrote and essay on Trip to Amethi😂😂😂🤣🤣🤣#Pappu wants to be the PM !! pic.twitter.com/nu1CatLm4E

— 🇮🇳Sudip Kumar 🇮🇳 (@SudipKumar26) May 19, 2019
#RahulGandhi be like #ElectionResults2019 pic.twitter.com/lOxxNbTIaI

— तेरा बाप। (@TheShanichar) May 23, 2019
#RahulGandi remains Pappu for ever
🤣🤣 pic.twitter.com/uvf18cAZlK

— Muniraju Gowda PM (@itulasimuniraju) October 22, 2018
Can't wait for the final #ElectionResults2019 few hours left...#23may#ModiAaRahaHai
😅😅 pic.twitter.com/06JuefPC1x

— Aditi Shukla (@aditishukla__) May 22, 2019
Congress was a better opposition when congress was in Power.#Elections2019results #rahulgandi
*meanwhile Rahul Gandhi* pic.twitter.com/xaokFaYMUb

— Vikas Giri (@VGXIIIIXXV) May 23, 2019
#ElectionResults2019
#Amethi #ModiAaRahaHai

All opposition parties Right now pic.twitter.com/OmjvkhTKdQ

— Akshay (@Akshay09416538) May 23, 2019
Best meme 😂❤️🙏🏻 #FirEkBaarModiSarkar #MainBhiChowkidar pic.twitter.com/qJqXZGS3a7

— Varun Desai (@VarunDe06850717) May 23, 2019
Desh ki jit🇮🇳🇮🇳😇😇😇🇮🇳😇🇮🇳
bjp rocks🌸
Real loin win @narendramodi#MainBhiChowkidar #ModiAaRahaHai #ModiHaiTohMumkinHai #firekbaarmodisarkar pic.twitter.com/ptF83abNVy

— Chowkidar Yashesh Kumar (@KumarYashesh) May 23, 2019
Also read: Ravi Shankar Prasad takes a dig at Opposition: People have silenced them with their votes