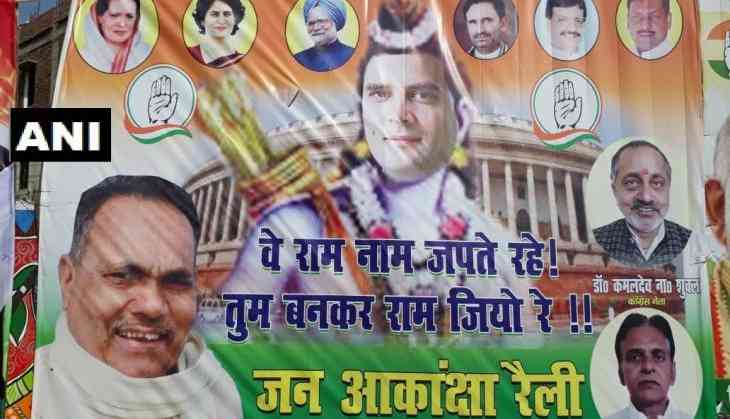 Ahead of the 2019 Lok Sabha election, Congress seems to be in full swing to win the election and make a grand impact across the state and in a mega rally for Bihar, the posters are portraying Rahul Gandhi as Lord Ram.
Treading the path of soft Hindutva, Congress party has been portraying its new image of Hinduism where Rahul Gandhi is threading ahead with new narrative and the party has been winning the states as well.
A poster in Bihar has come up where Rahul Gandhi has been portrayed as Lord Ram and it might create controversy all over again. The poster has come up ahead of the scheduled rally of Rahul Gandhi in Bihar on February 3.
Bihar: Congress President Rahul Gandhi portrayed as Lord Ram on a poster in Patna. pic.twitter.com/La4ZcL64GY

— ANI (@ANI) January 29, 2019
Rahul Gandhi, while attacking the BJP in Kerala said, "Mr Narendra Modi has spent 5 years wasting India's time telling one lie after another. He promised 2 crore jobs to youngsters."
Gandhi added that "He (PM Modi) has provided maximum income guarantee to 15 of his friends. If you're Anil Ambani you've guarantee to maximum income you can get. We're going to give a minimum income guarantee to all the Indians."
The grand alliance of Bihar is waiting for the seat sharing allotment where the RJD, Congress, RLSP are in a pact to fight election against the BJP, LJP.
Rahul Gandhi, while attacking the BJP also said that "Cobrapost exposes India's biggest corruption scandal with Rs 1 lakh crore public money given to DHFL & donated Rs 20 crore to BJP."
Also read: MJ Akbar #MeToo case: Priya Ramani summoned by Patiala House Court as accuse in Defamation case, to appear