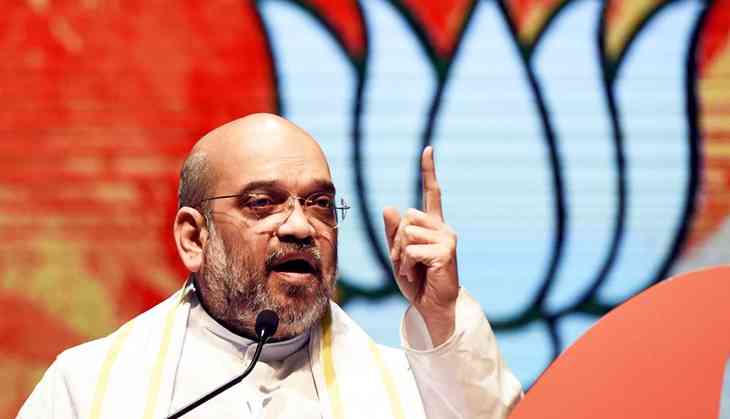 As 2019 is here and General election is approaching, the ruling Bhartiya Janta Party (BJP) has geared up to ensure its comeback in power in Centre. Following which BJP chief Amit Shah warned his ally in Maharashtra Shiv Sena and said that if an alliance happened, the party will look forward to its allies, but it did not happen, the party will thrash its former allies in the coming Lok Sabha polls.
Shah's comment came after Maharashtra Chief Minister Devendra Fadnavis set the BJP workers a target of winning 40 of the 48 Lok Sabha seats in the state.
Amit Shah and Maharashtra CM Fadnavis addressed BJP workers from Latur, Osmanabad, Hingoli and Nanded districts in Latur city. "Party workers should get rid of confusion about (prospects of) alliance (with the Shiv Sena). If the allies join us, we will ensure their win, or else will defeat them too ("patak denge"). Party workers should start preparations at every booth," Shah said.
Amit Shah also said the country was "enslaved" for 200 years. "If we win this election, our ideology will continue to rule for the next 50 years. We should put in extra efforts to win this election," Mr Shah said. "In 2014, the BJP won 73 seats (in Uttar Pradesh). This time even if SP and BSP join hands, we will win 74 seats," he said. "We should aim to win at least 40 out of 48 seats (in Maharashtra)," said Amit Shah.
Reacting to BJP chief's statement, the regional saffron party, Shiv Sena said it was ready to take on whoever challenges it. Hitting at BJP, the Shiv Sena said, its plan to win 40 seats meant it would rely on manipulation of Electronic Voting Machines (EVMs).
Also read: Lok Sabha 2019: Actor Prakash Raj makes political debut; Kamal Hasaan wishes him for his journey; says, 'walk the talk'