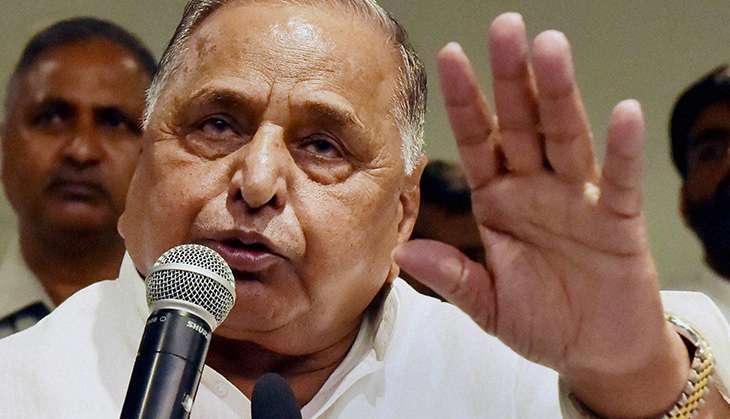 Mulayam Singh Yadav Nand Kumar/PTI
The Samajwadi Party rift spills into the New Year as relentless mudslinging continues between the two factions, each trying to one-up the other. Here are the latest developments in the father-son fued:
1. Mulayam Singh Yadav is expected to arrive in Delhi shortly, accompanied by brother Shivpal Yadav, where they are set to meet Amar Singh, who has been in London during the party splitting developments. Both Shivpal Yadav and Amar Singh have arrived in Delhi, and been staunch in their support for Mulayam Singh Yadav.
2. It was declared this morning that the party meeting that had been called by Mulayam Singh Yadav, scheduled for 5 December, Thursday, now stands cancelled.
3. Ram Gopal Yadav, on the other hand, is set to visit the Election Commission in Delhi on Monday to lay claim to the Samajwadi Party symbol "cycle". Mulayam Singh Yadav's faction is also expected to claim their rights to the party symbol, and are expected to arrive at the Election Commission office at 2pm today.
4. Uttar Pradesh Chief Minister Akhilesh Yadav has called for a meeting of Samajwadi Party MLAs at 11 am today.
5. Following reports of Mulayam Singh Yadav's ill health owing to high blood pressure on Sunday night, doctors arrive at his residence to conduct a thorough check-up. Now declared party patron, Mulayam Singh Yadav appeared rejuvenated on Monday morning, claiming that he is in perfect health condition.
6. The Samajwadi Party split on Sunday with a national convention declaring Uttar Pradesh Chief Minister Akhilesh Yadav the new national president, a post that was held by his father. Mulayam Singh Yadav was declared patron of the party by the convention.
7. The convention, that was attended by about 5000 party leaders and workers, also dislodged Shivpal Yadav as the party's UP chief and proposed that Amar Singh be thrown out of the party.
8. Akhilesh Yadav took to twitter on Sunday night justifying his decision.