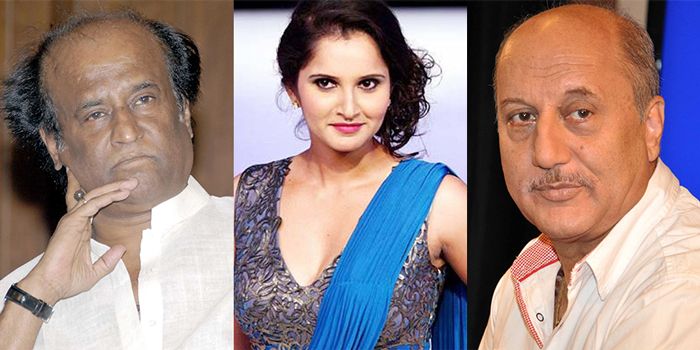 The list of the 2016 civilian gallantary awards - the Padma Vibhushan, Padma Bhushan and Padma Shri was leaked on 25 January - a day before the Republic Day celebrations.
Cinema personalities Rajnikanth and Anupam Kher have been honoured as have sportswomen including Saina Nehwal and Sania Mirza.
Here's the list:
Padma Vibhushan
Yamini Krishnamurthi - Classical Dance
Rajnikanth - Cinema
Girija Devi - Classical (Vocal)
Ramoji Rao - Literature and Education (Journalism)
Viswanathan Shanta - Medicine (Oncology)
Shri Shri Ravi Shankar - Others (Spiritualism)
Shri Jagmohan - Public Affairs
Dr Vasudeva Kalkunte Aatrre - Science & Engineering
NRI/OCI/PIO/Foreigners/Posthumous
Avinash Dixit (USA) - Literature & Education
Dhirubhai Ambani - Trade & Industry
Padma Bhushan
Anupam Kher - Cinema
Udit Narayan Jha - Playback SInging
Ram V Sutar - Sculpture
Heisnam Kanhailal - Theatre
Vinod Rai - Civil Service
Yarlagadda Lakshmi - Lierature & Education
NS Ramanuja Tatacharya - Literature & Education
Barjinder Singh Hamdard - Literature & Education
Nageshwar Reddy - Gastroenterology
Swamy Tejomayananda - Spiritualism
Padma Shri
Ujjwal Nikam
Ajay Devgn
Priyanka Chopra
SS Rajamouli
Malini Awasthi
Other names in the list of Padma Bhushan awardees include former US Ambassador to India Robert D Blackwill, sportswomen Saina Nehwal and Sania Mirza and Indu Jain of Bennett, Coleman & Co.
The Union Home ministry had invited nominations for the awards in May 2015. The MHA had set a deadline of 15 September for submissions.