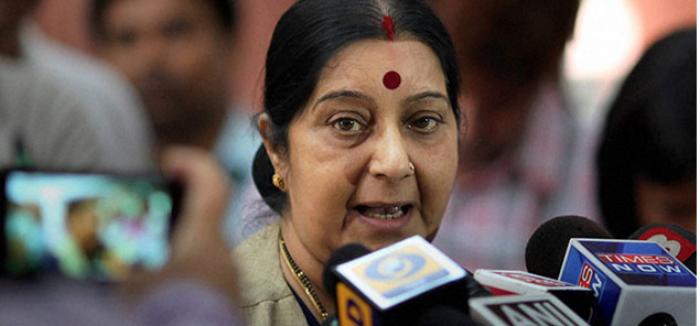 Sushma Swaraj has strongly condemned the charges pressed against her by the opposition for supporting former IPL commissioner Lalit Modi on 'humanitarian grounds'.
In the absence of the opposition in the Lok Sabha, Sushma defended herself saying that she had never requested British government to favour Lalit Modi for travel documents and that the allegations against her are baseless.
"Words in such form of communication are important. Had I requested the British in favour of Lalit Modi, I would have written that documents should be given. I challenge the opposition to present any proof that I did this," said Swaraj.
"What I said was that if the UK government chooses to give travel documents to Lalit Modi, it won't affect ties with India,' the External Affairs Minister clarified.
Sushma, while making a mention of Lalit Modi's wife, said that the lady has been suffering from cancer for 17 years and it recurred the 10th time.
Making an emotional appeal before the House, she said, "I have never helped Lalit Modi but his wife, who is an Indian citizen, wanted her husband by her side." Underlining the emotional aspect of her statement, she added, "If helping a cancer patient is a crime, then I admit having committed this crime and am ready to face any punishment from this House for it."
"I want to ask what would Mrs Sonia Gandhi have done in my place?," she questioned.
The opposition had earlier objected to External Affairs Minister Sushma Swaraj's statement in Rajya Sabha, saying it was made without notice and hence illegal, and urged Rajya Sabha Chairman Hamid Ansari not to take it on record.