Kulbhushan Jadhav's four-day public hearing has already begun at the ICJ headquarters, amid the Pulwama tension between the two countries i.e. India and Pakistan. On the first day of hearing on Jadhav's case, Indian diplomats ignored the handshake gesture with Pakistani officials.
Instead of shaking hands, Indian diplomats greeted the Pakistani senior officials with a 'namaste' on the first day of the hearing in the Kulbhushan Jadhav case at the International Court of Justice (ICJ) here.
The four-day hearing in the Jadhav case has started from Monday (18th February) and will continue till 21st February. The hearing started amid heightened tensions between India and Pakistan following the latest terror attacks in Pulwama, in which over 40 CRPF jawans have been killed by Pakistani-based outfit Jaish-e-Mohammad terror group.
Ahead of the hearing at ICJ on Monday, Pakistan's Attorney General Anwar Mansoor Khan went to shake hand with Deepak Mittal, Joint Secretary, the Ministry of External Affairs but he respond him with a namaste.
The Hague (Netherlands): Government of India's agent Deepak Mittal, Joint Secretary, MEA and Pakistan's AG Anwar Mansoor Khan before the proceedings in Kulbhushan Jadhav case at the International Court of Justice. pic.twitter.com/QmZntyMFKG

— ANI (@ANI) February 18, 2019
Later on, Khan moved towards other diplomats Venu Rajamony, the Indian ambassador to the Netherlands, for shake hand as he was also sitting next to Mittal. But, Rajamony followed the same step and greeted Khan with a namaste.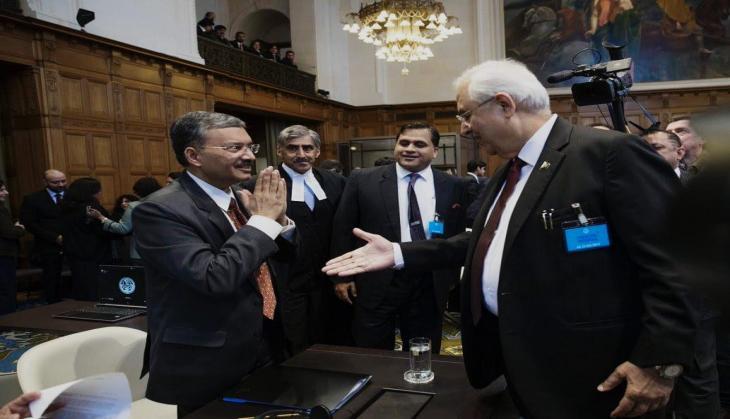 Further, the Pakistani official moved to Harish Salve, the former attorney general who is representing Jadhav's case at the ICJ, shook hands.
Mittal also greeted with a namaste to other Pakistani officials, Mohammad Faisal, Pakistan's Foreign Office spokesman and the Director General for South Asia and SAARC.
However, Jadhav is a retired Indian Navy officer and was sentenced to death by the military court o charges of 'espionage and terrorism' after a closed trial in April 2017. After this punishment, the huge controversy sparked in India.
Finally, India foreign ministry decided to raise this matter in the International Court of Justice in May 2017.
Also read: Kulbhushan Jadhav case: 'Pakistan misusing UN court as propaganda tool,' argues India at ICJ