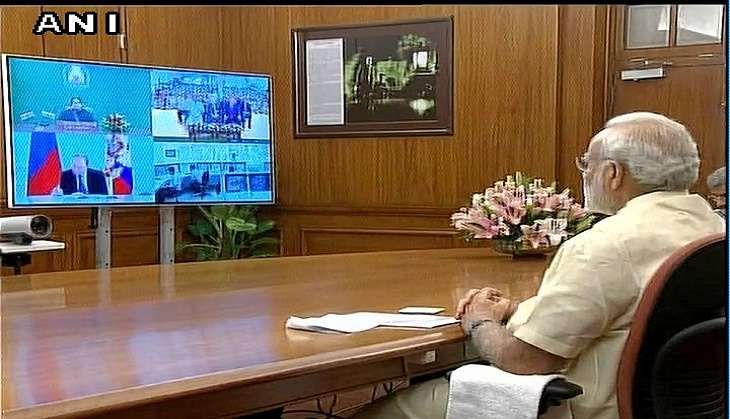 Prime Minister Narendra Modi, Russian President Vladimir Putin and Tamil Nadu Chief Minister J Jayalalithaa dedicated Unit-1 of the Kudankulam Nuclear Power Project via video-conferencing on 10 August.
The three leaders dedicated the plant, which has been jointly built by the Nuclear Power Corporation of India and a subsidiary of Russia's nuclear regulatory body Rosatom, to India.
Addressing the the function in Tirunelveli, the site of the plant, the leaders emphasised that the 1,000 MW Nuclear Power Plant-I was one of the safest atomic plants in the world.
Speaking on the occasion, PM Modi said "India-Russia nuclear plant collaboration is a celebration of our friendship. We plan to build a series of nuclear power plants. Today's event is joyful event for the Russian team of engineers in India and Russia, we salute them for their relentless work".
"I have a vision for India where achievements of our economic developments will benefit Earth. Kundankulam. The success of this plant demonstrates a common resolve to build new ties," the PM added.
"I look forward to meeting you at the G-20 summit," PM Modi told Putin via video conferencing from New Delhi.
"We have huge plans with India in areas of Nuclear energy. We expect that by the end of this year the third part of this project is signed," Putin said via video from Moscow.
"I have always deeply valued our friendship with Russia and it is fitting that we jointly dedicate KUDANKULAM Nuclear Power Plant (KNPP) Unit 1. This also signals our joint commitment to build pathways of partnership for green growth," he said.
The second unit at Kudankulam achieved criticality on 10 July 2016.
The dedication event comes nearly three decades after the Indian government signed a contract with the Soviet Union to build the plant. While the pact was inked in 1988, construction began only in 1997 due to the political and economic upheaval in Russia after the collapse of the Soviet Union in 1991.