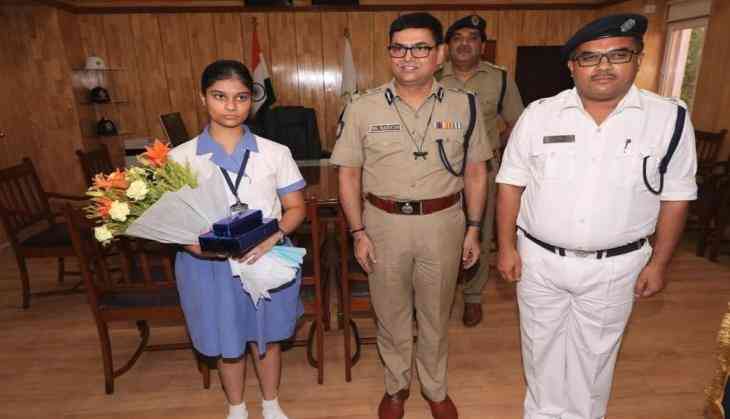 Richa Sharma secures 4th position
This month has been all about results of 10th and 12th class from CBSE to ICSE to state boards. Children around the country secured an amazing position among all the toppers stand 17-year-old girl who secured 99.25 % in ISC exam and also secured the fourth position nationally.
Richa Sharma from Kolkata made her father proud by being appointed as Honorary Deputy Commissioner of Police and bosses him for a day. An art's student of GD Birla Centre for Education came to the office at 6 am in her school uniform. She gave orders and also took reports from all officers those who were in charge of police stations the division.
Kolkata Police took to their twitter handle and tweeted her photo with a message, "Richa Singh, daughter of Inspector Rajesh Kumar Singh, Additional Officer in Charge of Gariahat police station… She was felicitated this afternoon by Commissioner of Police Dr Rajesh Kumar."
Congratulations Richa!!

Richa Singh, daughter of Insp. Rajesh Kumar Singh, Addl. OC, Gariahat PS, secured the fourth position across India at the ISC Examinations this year.

She was felicitated this afternoon by @CPKolkata , Dr. @RajeshKumarIPS for her academic excellence. pic.twitter.com/KIJ8BtCH0S

— Kolkata Police (@KolkataPolice) May 8, 2019
Till noon she was in the office and after that, her father Inspector Rajesh Kumar Singh escorted her to two police stations for inspection. During her six hours on the chair she bossed legendary and checked the functioning of the CCTV cameras.
As Richa was allowed to pass any order during her one-day appointment so she used it and gave a very important order to her father to return home early. "Since I was allowed to give an order to any of them, I preferred to order my father to return home early. It was really special, he went back early after taking due permission from his seniors.,." Richa said.
Also Read- Myanmar: 11 injured after Biman Bangladesh Airlines slides off runway due to heavy storm