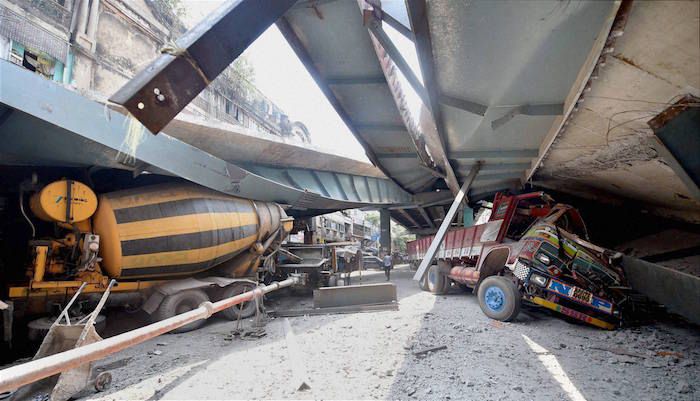 After multiple FIRs were filed against Hyderabad-based IVRCL, the construction company responsible for building the 2.2 km-long Vivekananda Road flyover that collapsed on 31 March, murder charges have been brought against them for the loss of several lives as a result of the tragic calamity, on 1 April.
The Kolkata Police have detained seven workers who were allegedly responsible for the construction of the flyover. There is no confirmation, however, as to whether the arrested labourers were employees of IVRCL or independent contractors hired by the company.
As the rescue operations near completion, the Kolkata Police reached IVRCL's Hyderabad office today to apprehend those responsible for the flyover's construction.
IVRCL on Friday described the incident as an "accident" which was under "no one's control", a day after another official of the company had dubbed it as an "act of God". "It is an accident," IVRCL officials here claimed, contending that there were no issues with regard to quality of construction of the flyover that collapsed.
"...100 per cent no issues with regard to quality. It is the same material that was used for the 60th section (which collapsed), that was used for the 59 sections after approval ...unfortunately it collapsed," IVRCL's legal team head P Sita told reporters.
-With PTI inputs