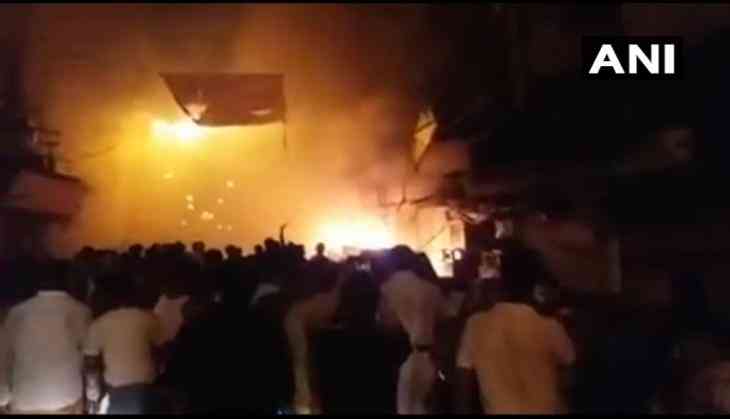 A massive fire broke out at a building in Kolkata's Bagri Market area last light. Immediately, 30 fire engines were rushed to the spot and started trying to douse the flame in the congested area on Canning Street. However, no casualties have been reported as the fire broke out late in the night and no one was present.
The building, 71 Canning Street, houses several medicine shops, jewellery and cosmetics trading outlets. The fire started at the ground floor of the five-storey building and speedily speared high. There were complaints of fire engines reaching late to the spot.
Mayor Sovan Chatterjee visited the spot early in the morning and oversaw firefighting efforts. "The fire broke out at 2.45 am. We are trying our best but firefighting operation is tough here because of the number of buildings," he said.
The black think smoke coming out of the area could be seen as the fire was massive. Even after five hours the fire could not be brought under control. Firefighters broke the window panes and shutters of shops to enter the building to reach the source of the fire. But they did not find the source.
Traffic restrictions have also been imposed in the area due to the fire.
"Due to a fire incident, Rabindra Sarani in between M.G. Road & Podder Court and Canning Street in between Brabourne Road & Rabindra Sarani is closed to traffic." Kolkata DCP traffic tweeted.
"As the area is very congested, we are finding it difficult to work. We are using hydraulic ladder and gas cutters to cut through the grills of the gates and small windows to enter the building," a senior official was quoted by news agency PTI as saying.
Also read: Mathura: Salute! Policemen carries pregnant woman in arms to help her reach hospital and wins heart